00

Days

00

Hrs

00

Min

00

Sec

This holiday sales event ends soon!
Enter discount code BESTGIFT at checkout for the sitewide discount including all currently discounted lights!
This discount has expired. Please text us for the availability of one-time use codes if BESTGIFT has expired and does not work during checkout.
Now available in green, white, or blue!
Very limited stocks remaining.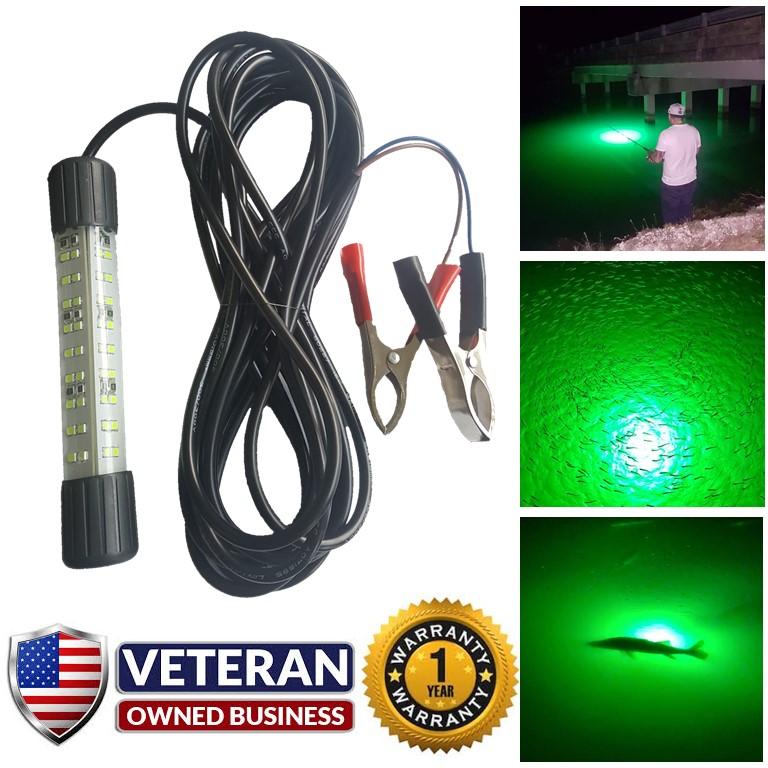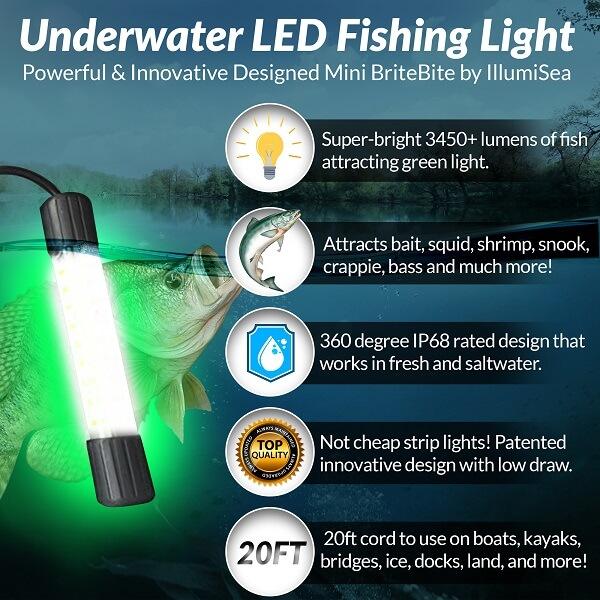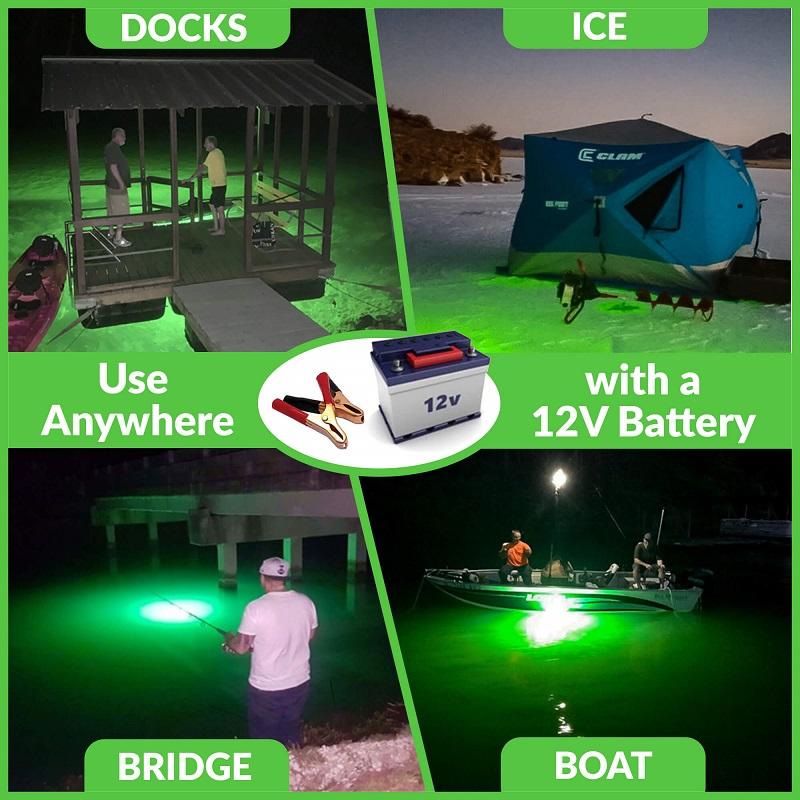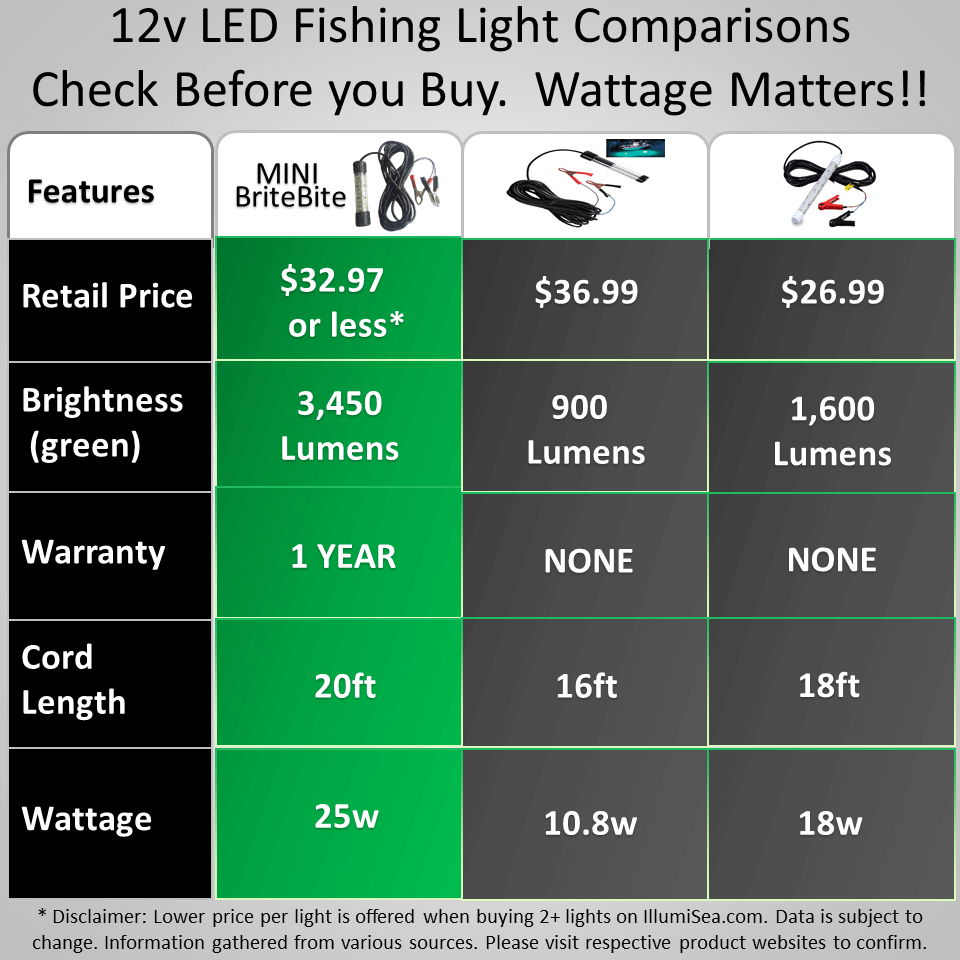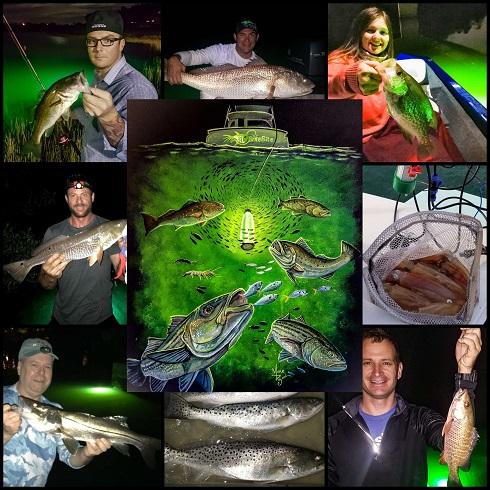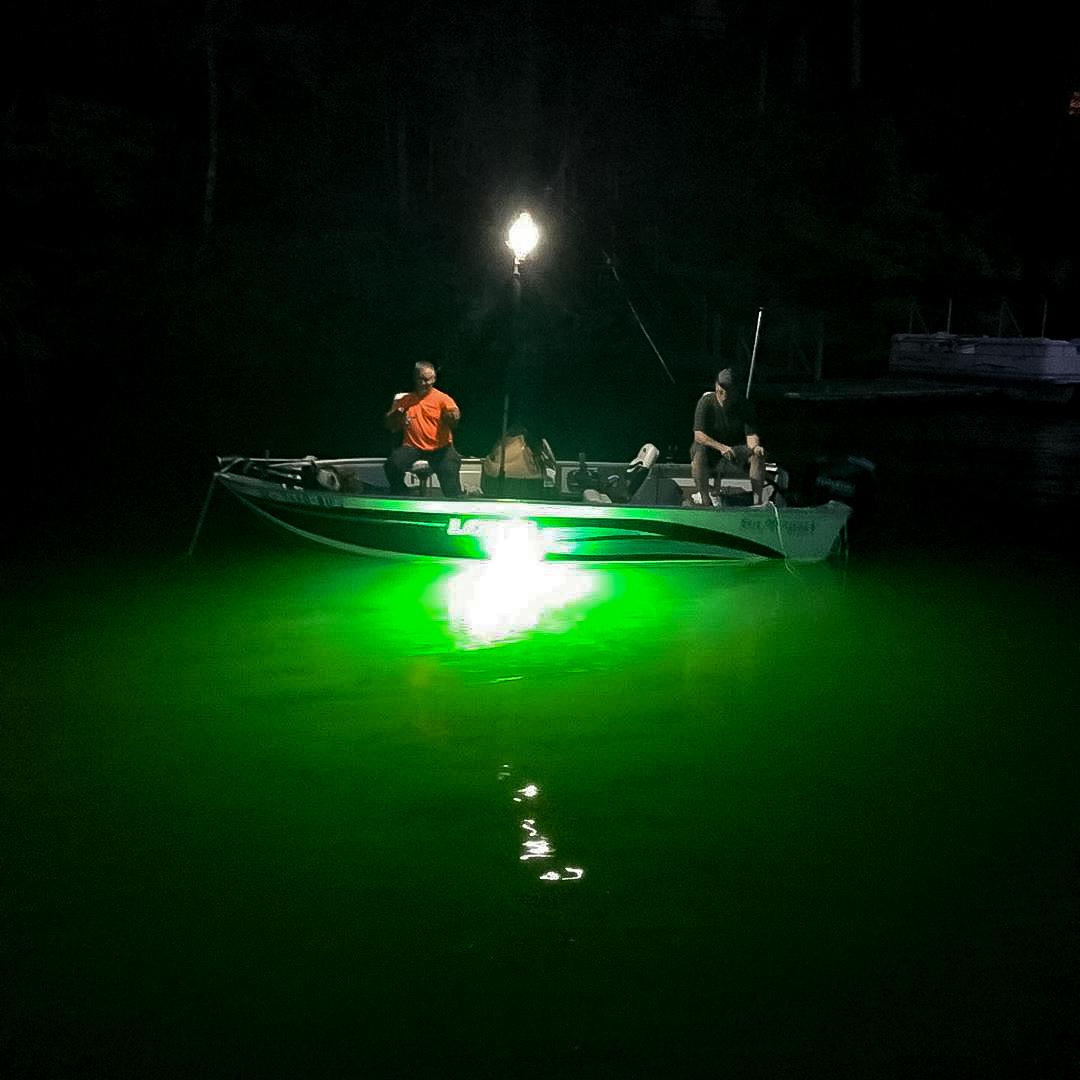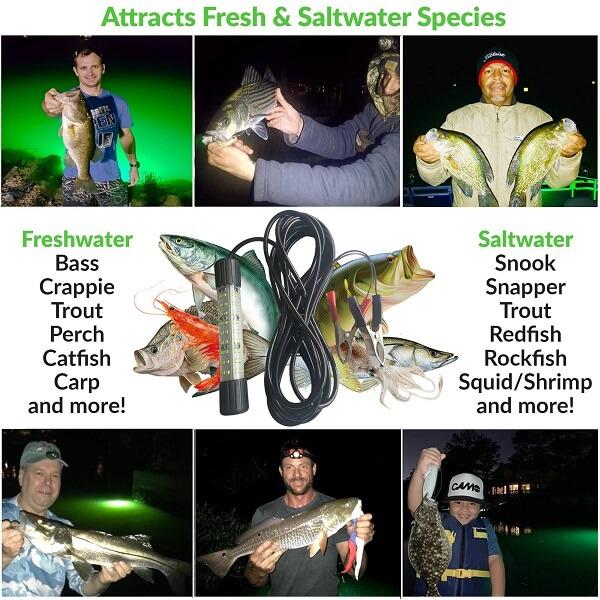 MINI BriteBite (Green)
"I was very surprised on how bright this light is. Bait fish came into the light very fast and lots of it. Will be buying more for sure. Amazing product and awesome customer service. " - Billy H.

✔ 3450+ Lumens of Fish Attracting Green Light
✔ 30 day Guarantee and 1 Year Warranty
✔ Attracts both Fresh and Saltwater Species
✔ Long lasting 50,000-hr average life-span
✔ Self-weighted with 20 ft of marine grade cord 
✔ Use on boats, kayaks, bridges, ice, docks, and more!
for (1) light. $4 Cheaper than Amazon Pricing! Significant discounts available for 2 or more!
All include Free Priority Shipping in the USA
100% No-Risk 30 Day Money Back Guarantee

✔ 3450+ Lumens of Fish Attracting Green Light
✔ 30 day Guarantee and 1 Year Warranty
✔ Attracts both Fresh and Saltwater Species
✔ Long lasting 50,000-hr average life-span
✔ Self-weighted with 20 ft of marine grade cord 
✔ Use on boats, kayaks, bridges, ice, docks, and more!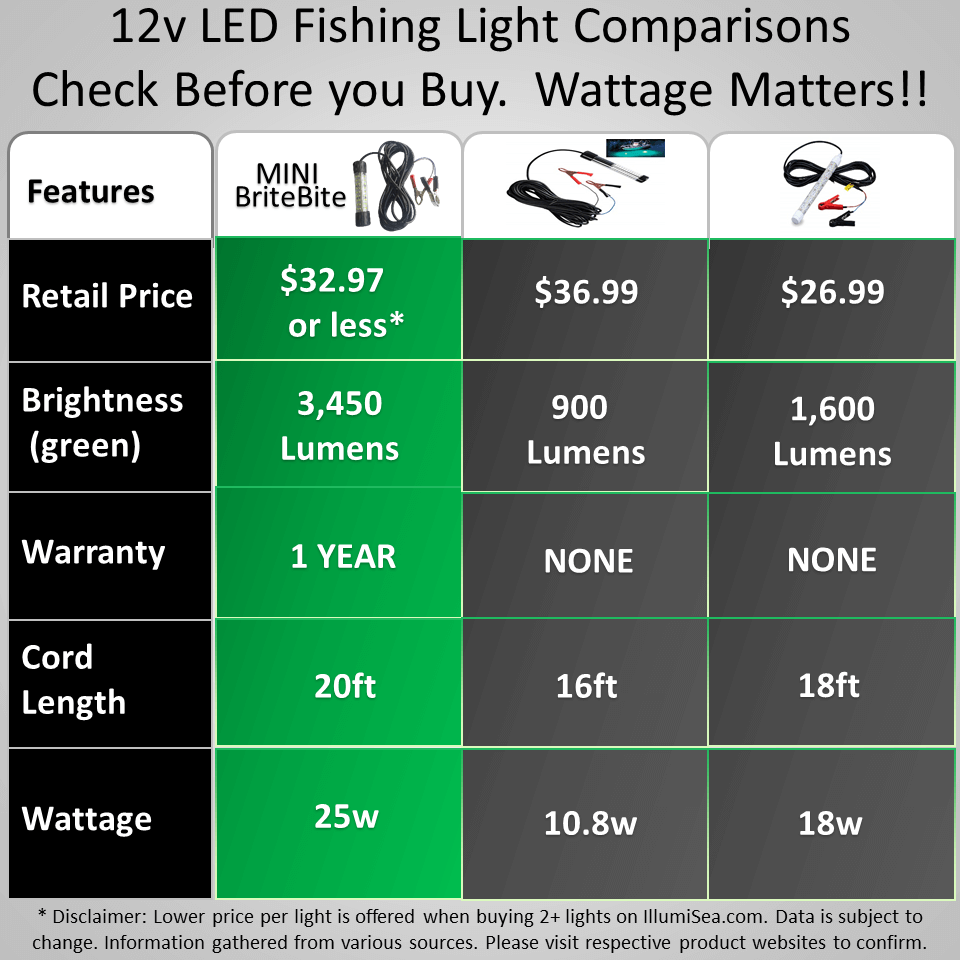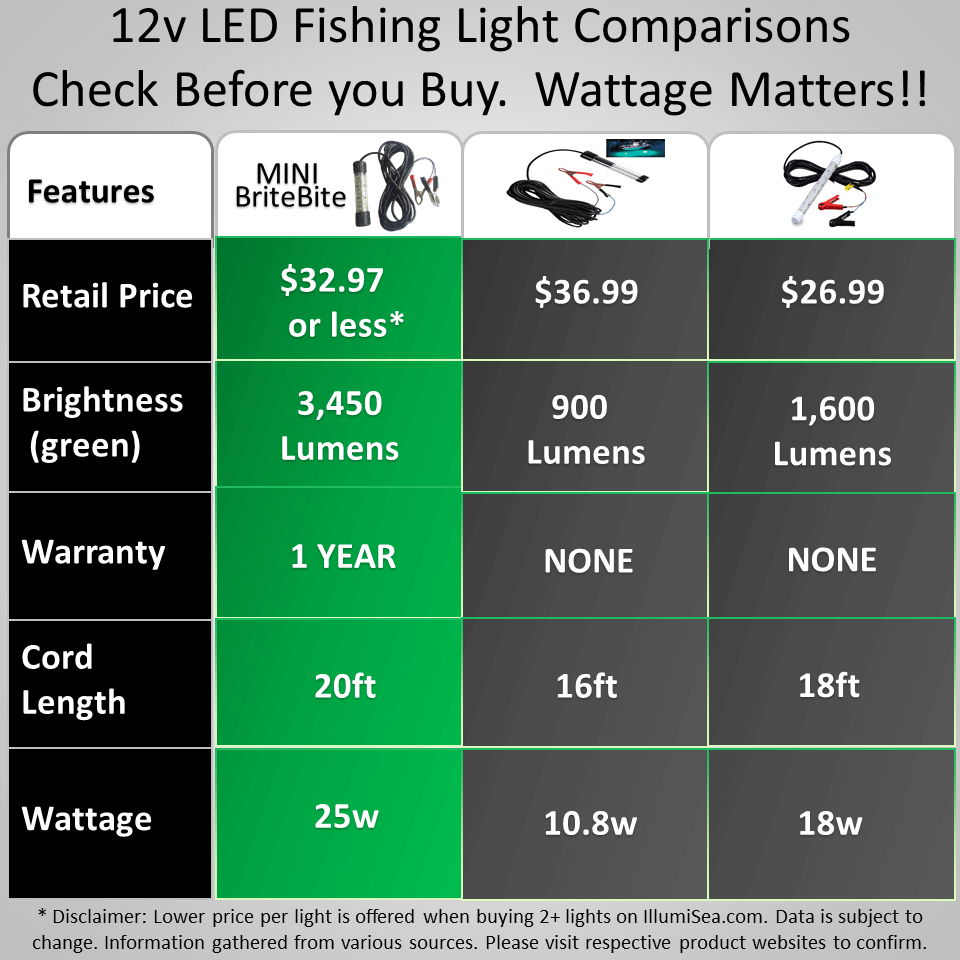 Most Powerful & Innovative Design on the Market for under $40!  
The New MINI BriteBite fishing light is designed after the highly-rated $200 REEL BriteBite!

We took the same innovative and efficient technology and packed it into a compact and super bright light that everyone can afford!  Many other comparably priced lights are cheaply made and have around 8-10w that only produce 1000-3000 lumens (brightness). This one has actually been tested at over 3450+ lumens from 25 watts!, comes with a 1-year warranty and is back by a 30 day guarantee. 
Video of the MINI BriteBite in Use
360 degrees of the best fish attracting color! 

Green wavelength size is #1 at Attracting Marine Life in both Fresh and Saltwater

Toss this light into the water and watch the food chain reaction and feeding frenzy begin.  Soon after submerging the light it will begin to attract masses of underwater microscopic organisms called 
phytoplankton.

  These small organisms attract the areas common bait fish to the light and after 15-30 minutes there will be local predator fish fighting over the easy meals!  You will create lifelong memories during your next night fishing trip that will never be forgotten. 
Top 3 Tips for Success
#1 Have Patience 
Patience is definitely key.  If there are fish in the water, they will find the light. Plankton and bait fish will start to show up pretty quickly and will eventually attract the predator fish. They will come. 
#2 Match the Hatch 
Match the hatch (bait). Using live bait is preferred but artificial works too.  Bring a minnow net and scoop fresh bait up under the light to use. If you like to use artificial make sure to match the size and color of what is swimming around the light to fool the more finicky fish. 
#3 Engage Stealth Mode
Be quiet.. some fish are finicky and when they are up close under the light they can hear and see you   Some species are more sensitive than others. Many fish will hang out in the shadow of the light and dart in for the easy meals, so fish all around... and at different depths until you know where the bite is.  Place the light close to some structure if possible allowing them to feel more secure. 
What are people saying about IllumiSea?
Most Frequently Asked Questions
Do underwater fishing light actually work?

It is well known that many species of fresh and saltwater fish mainly feed at night, but it is often difficult to catch them. Underwater fishing lights solve this problem by bringing the fish right to you. After a short amount of time in the water, the light causes a chain reaction.




The light initially attracts masses of microscopic marine algae called phytoplankton that cloud the water.  These small organisms attract common bait fish to the light and after 15-30 minutes they will appear to be memorized by the light and continuously swim circles around it. These baitfish are all you need to make for the best night fishing experience you have ever had. Predator fish will begin to crowd the light and take advantage of the easy meal! 




Soon after the phytoplankton and baitfish show up the predator fish will too. Fishing the outer edges of the light will produce more bites than directly in the light. That's where the bigger fish will be circling and occasionally dart into the light for an easy meal.  Matching the bait size and color that is swimming around the light will result in significantly more strikes.  If you prefer using live bait, just net a few swimming around the light and "match the hatch" perfectly!

What type of battery do I need to operate the light?

Any commonly found 12v battery will power the light. Since its a low draw (2 AH) light, you don't need a really large battery. If you plan on using it for extended periods of time then we would recommend a deep cell marine battery.




The best way to size a battery and determine how long it will last is by the amp hour (AH) rating on the battery. A 2 AH battery will last 1 hour, a 4 AH battery will last 2 hours, and so on. Do not get AH confused with cranking amps as they are different. Many of our customers just use a small motorcycle, power-wheels, or golf cart battery.


How long is the cord and how deep is the light rated?

The cord is 20ft long but the light has been pressure tested to 50 meters. It carry's an IP68 waterproof rating. 


What are the lumens? Will it work in dirty water?

Our LED fishing lights have some of the industry's highest luminous efficiency ratings.  The LED technology is advancing very quickly making more efficient and brighter lights with much less energy. Our lights have been tested by a third party lab and resulted in:


Green Mini BriteBite Model

        Luminous Efficiency: 138.3309lm/w  Lumens per watt

        Max Lumens : 3,458 Lumens




Actual lumens vary with the color of the LED, supplied current, and other factors.  This light is bright enough to penetrate cloudy waters but using it in extremely muddy/cloudy waters is not recommended. We also have a much brighter model called the Reel BriteBite.


What type of fish can I expect to attract?

SALTWATER APPROVED!

Many saltwater species are attracted to underwater lights such as snook, redfish, seatrout, rockfish, snapper, tuna, shrimp, squid, and a huge variety of bait fish! 




FRESHWATER APPROVED!

Many freshwater species are attracted to underwater lights such as a variety of bass, crappie, trout, catfish, perch, and a variety of freshwater baitfish!


The light is self-weighted and will sink in calm waters.  If used in a strong current/tide area we recommend adding a lead weight to keep the light from moving around too much.  


Who is IllumiSea Aquatic Lights?

We are a family owned and operated business that specializes in creating memorable experiences through our innovative line of aquatic lights. Founded by a Special Operations Combat Veteran and his wife in 2017, IllumiSea came to fruition on a fall evening while fishing with our 4 sons.




Being a family who loves to fish we purchased an underwater light for our dock. Our 6-year-old son cast out his line into a massive bait ball swarming around the light. Within minutes he had a bite and caught himself his very first striped bass!!! Within those moments of him having a smile that couldn't be wiped off his face, IllumiSea was born.




We knew we wanted to give others the chance to have a moment like this one. The time as a family that we spend around the light each evening is priceless. Those moments spent together mean so much especially being a military family. Our moments are limited with one another so much, that we have created a family adage. An adage of "collect moments not things".




We hope that if you choose to purchase a light from us that that one thing you do "collect" will bring you a million moments filled with lasting memories! It sure has for our family of 6!!!