Miami Boat Show LED Fishing Light Video
LIMITED TIME PRICING!!
USE AS A DOCK LIGHT OR 12v FISHING LIGHT!
Attracts Fresh & Saltwater Fish!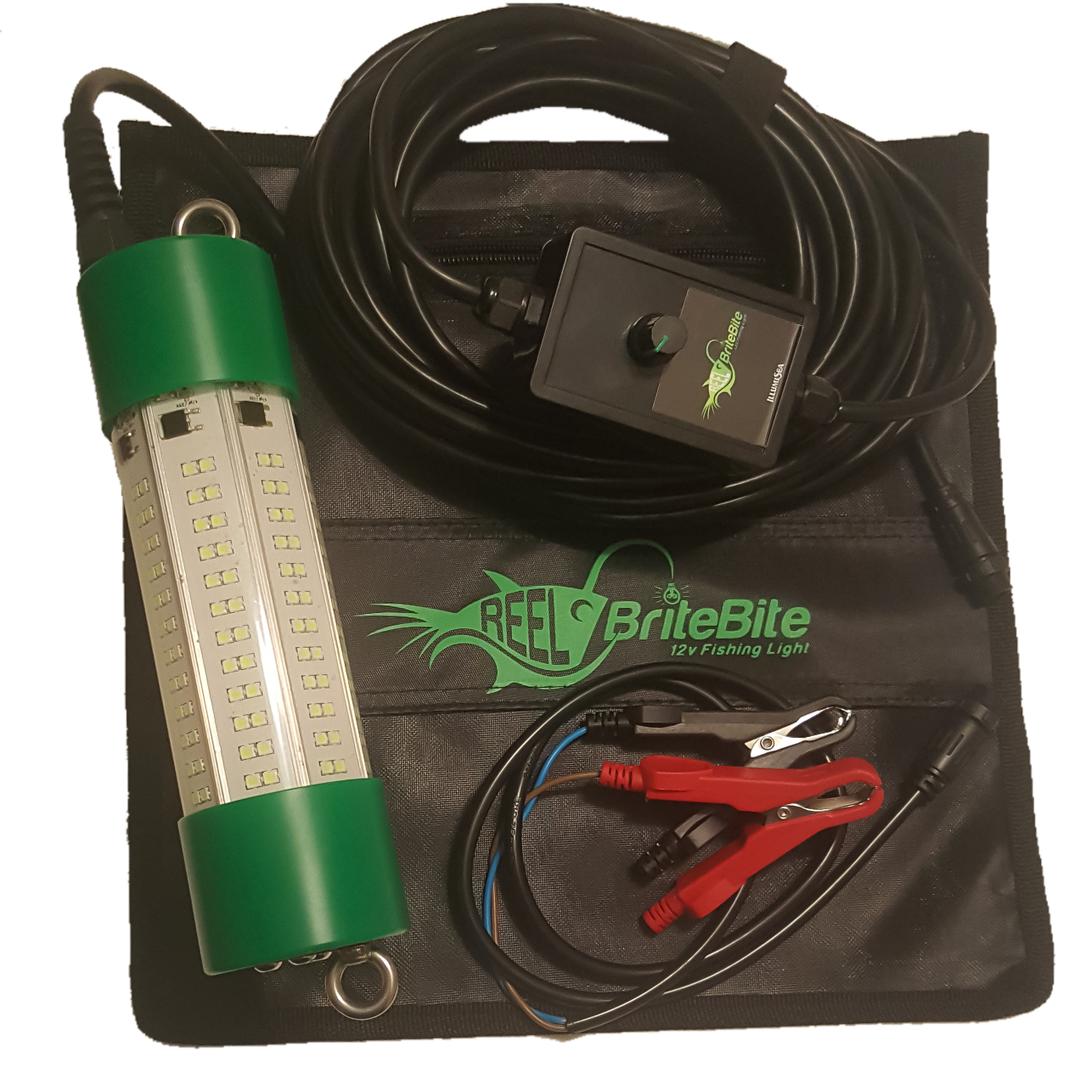 ENJOY A LIMITED TIME OFFER
Imagine being able to catch more fish at night or lighting up that beautiful water in the backyard! Toss this extremely high powered LED light into fresh or saltwater and watch the chain reaction and feeding frenzy occur.
Microscopic marine algae called phytoplankton attracted to the light starts it all off and is soon followed by larger baitfish and predator fish. Perfect for attracting massive bait balls and a variety of bass, snook, crappie, trout, shrimp, squid, various offshore species, and more!
Own the 
MORE
powerful than
EVER
REEL BriteBite Fishing Light from IllumiSea! 
The only LED Fishing Light on the market that has adjustable brightness, a depth rating of 150ft, creates 16,000+ lumens, and includes our industry leading 5-year warranty! 
Order now and receive the Limited Time Discount PLUS Free Shipping!
30 Day Money Back Guarantee
5 Year Warranty
Ships with FREE expedited Priority!
And Many More Places!
Portable Enough to Carry Anywhere
!
Live Google and Facebook IllumiSea Reviews 
• Industry Leading
5 Year
Warranty 
•
30-day
Money Back Guarantee 
• Attracts
Fresh
&
Saltwater
Fish
• Over
16,000
Lumens Bright
• 30 Ft Marine Grade Cable
•
IP68
Waterproof Rating to
150 ft
• 7 Sides with a Total of 168 LEDs
•
150w
of Power (12.5/6.25 AH)
•
360°
of Bright Fish Attracting Light
• Waterproof Connectors
• Dimmer/Brightness control
•
Long Lasting
LED Life-Span
• Durable & Corrosion Resistant 
• Handy Storage and Drying Bag 
•
Safe
12v DC and 24v DC Input 
• 110-250v AC–12v DC Converter (sold separately)
Attracts the Bait!  It is well known that many species of fresh and saltwater fish mainly feed at night, but it is often difficult to catch them. Underwater fishing lights solve this problem by bringing the fish right to you. After a short amount of time in the water, the light causes a chain reaction.
The light initially attracts masses of microscopic marine algae called phytoplankton that cloud the water.  These small organisms attract common bait fish to the light and after 15-30 minutes they will appear to be memorized by the light and continuously swim circles around it. These baitfish are all you need to make for the best night fishing experience you have ever had. Predator fish will begin to crowd the light and take advantage of the easy meal! 
Creates a feeding frenzy!
 Soon after the phytoplankton and baitfish show up the predator fish will too. Fishing the outer edges of the light will produce more bites than directly in the light. That's where the bigger fish will be circling and occasionally dart into the light for an easy meal. 
Matching the bait size and color that is swimming around the light will result in significantly more strikes.  If you prefer using live bait, just net a few swimming around the light and "match the hatch" perfectly!
TESTIMONIALS ON THE PREVIOUS MODEL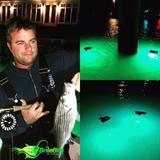 Stoked on this light, I have the Reel BriteBite 12v light and it is awesome. I have used it out on the bay and in the inlets and it has always produced fish. I can stay clear of trying to cast at people's dock lights around their boats and stuff cause I can easily set up my own light off my boat now. Stoked on my experience with it and looking forward to summertime to target some warm water species. Super easy to use and hook up as well. Also on top of a rad light, they have some cool hats with logos that glow. Customer service is also on point. !!
Order
TODAY

and save on the best fishing light on the market!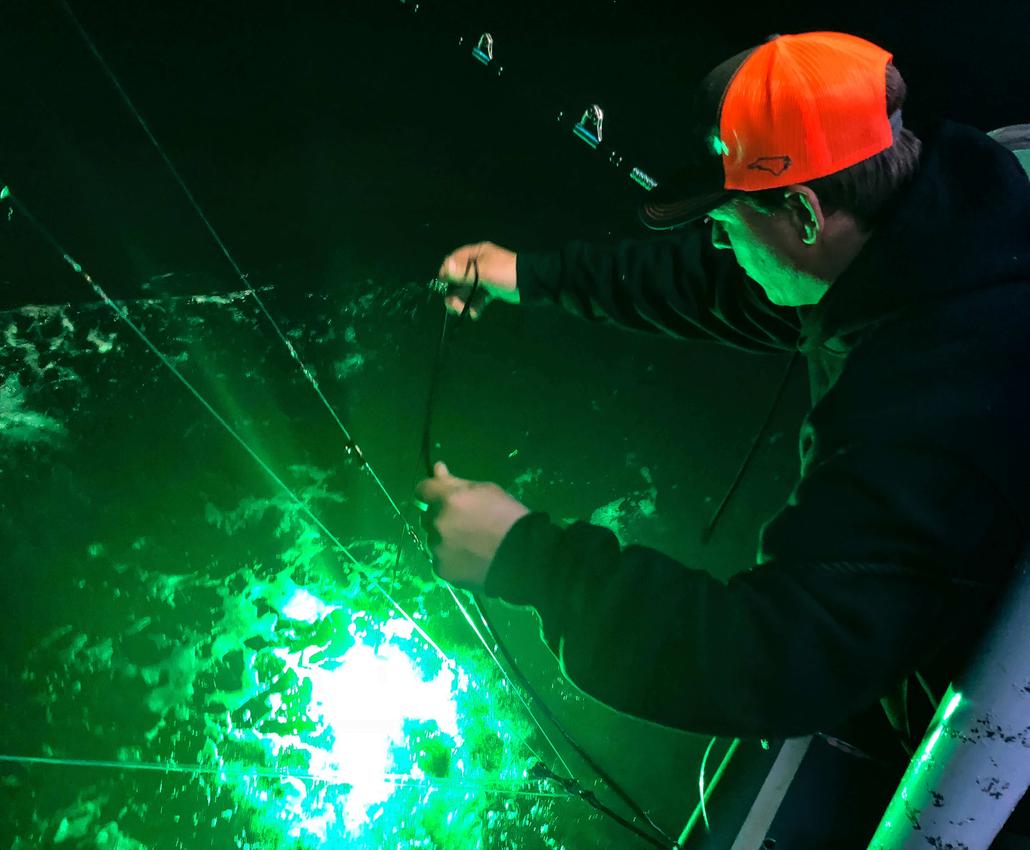 Simple to Use

The Reel BriteBite is extremely simple to use. Whether you own a yacht, boat, kayak, canoe, or want to fish off the bank this light will work for you. Wherever you have an outlet or can carry a power source, this light will work. Just attach it to a deep-cell marine battery (not included) using the included battery clamps and throw it in.
If you don't want to mess with a battery, use our 110v-12v converter and plug it in anywhere that has an outlet with 110v-250v power output. When powered by battery, the amp hour rating of that marine battery will determine how long it will operate. For example, at MAX power using a 100 amp hour battery you will be catching fish for approximately 8 hours until the battery needs recharged. We highly recommend having a separate battery for the light and never use a "starting battery" or a boats only power source.
Toss the light in the water and lower it to your desired depth. Depending on the environment, bait will start showing up within 15-20 minutes and continue to be attracted by the light. Predator fish will soon follow, and you will have created a secret fishing hole of your own.
Watch the video on why IllumiSea was born! We are a family owned and operated business that specializes in creating memorable experiences through our innovative line of aquatic lights. Founded by a Special Operations Combat Veteran and his wife in 2017, IllumiSea came to fruition on a fall evening while fishing with our 4 sons.
Being a family who loves to fish we purchased an underwater light for our dock. Our 6-year-old son cast out his line into a massive bait ball swarming around the light. Within minutes he had a bite and caught himself his very first striped bass!!! Within those moments of him having a smile that couldn't be wiped off his face, IllumiSea was born.
We knew we wanted to give others the chance to have a moment like this one. The time as a family that we spend around the light each evening is priceless. Those moments spent together mean so much especially being a military family. Our moments are limited with one another so much, that we have created a family adage. An adage of "collect moments not things".
We hope that if you choose to purchase a light from us that that one thing you do "collect" will bring you a million moments filled with lasting memories! It sure has for our family of 6!!!
Fishing Light
with
12v Battery Clamps
Our NEW Green REEL BriteBite Fishing Light
with12v battery clamps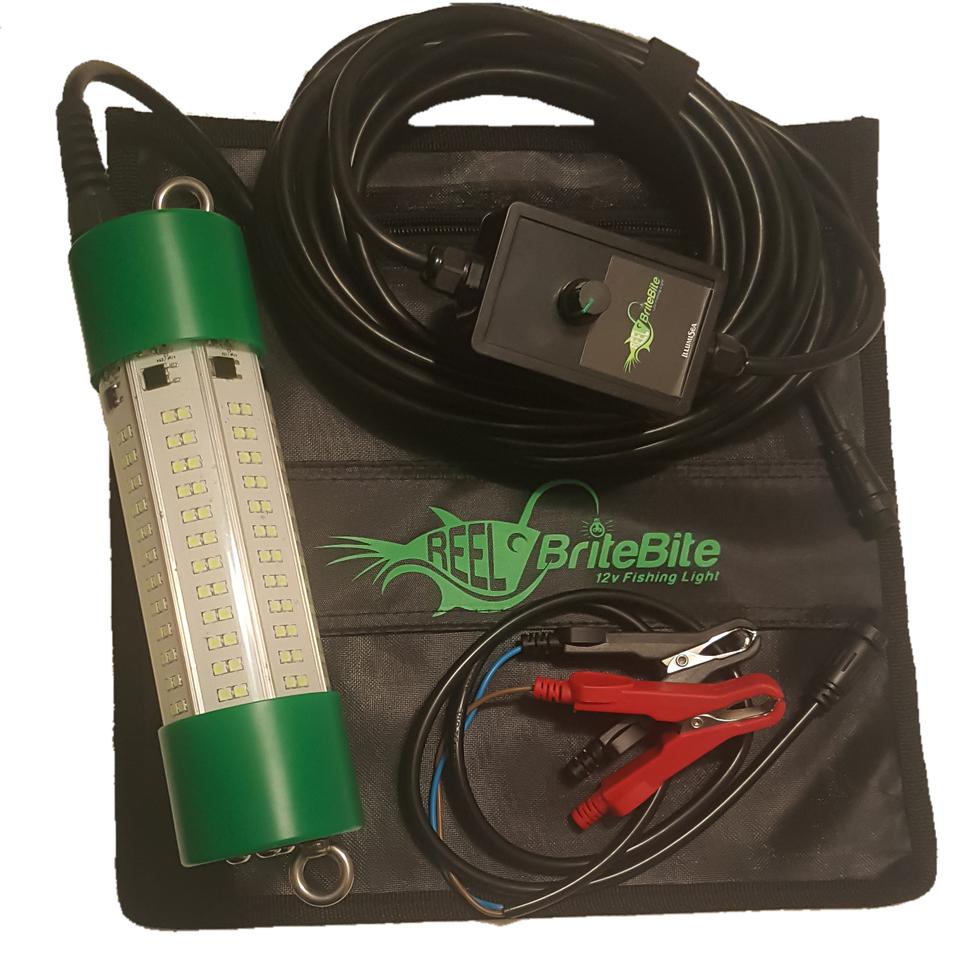 $50 OFF!
Plus Free US Shipping

Fishing Light
12v Battery Clamps
AND
110v-250v Converter
Our NEW Green REEL BriteBite Fishing Light

with 12v battery clamps
and
110-250v converter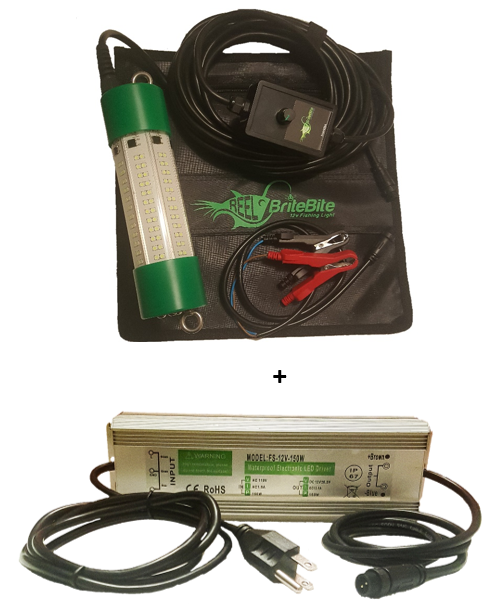 SAVE $50!
Plus Free US Shipping

Dock
Lighting Kit
2 Green REEL BriteBite Fishing Lights

with battery clamps
and
converters for your dock or boat!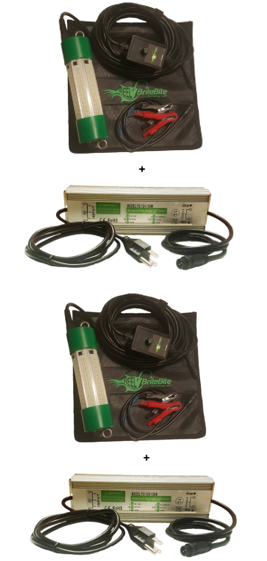 $120 SAVINGS!
Plus Free US Shipping