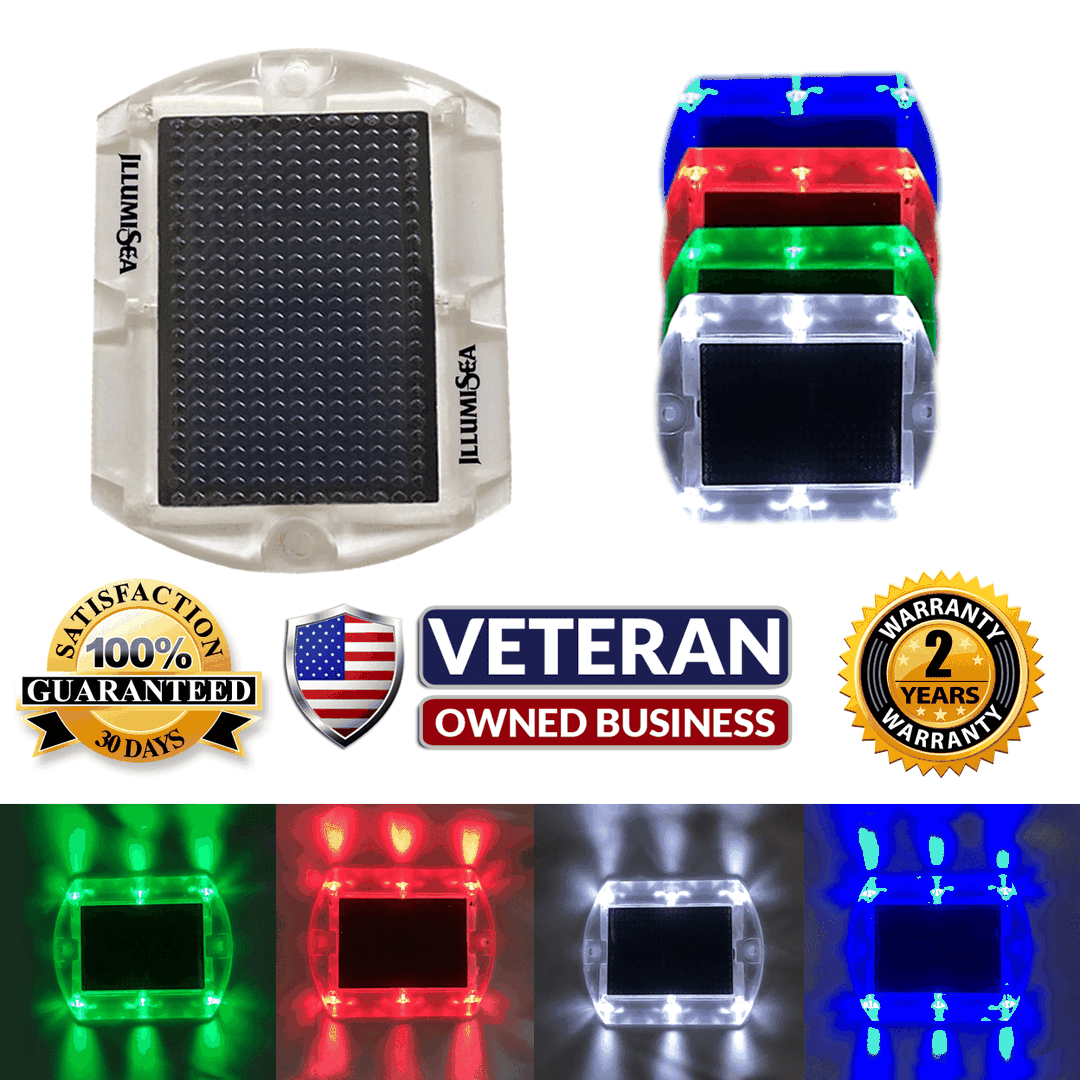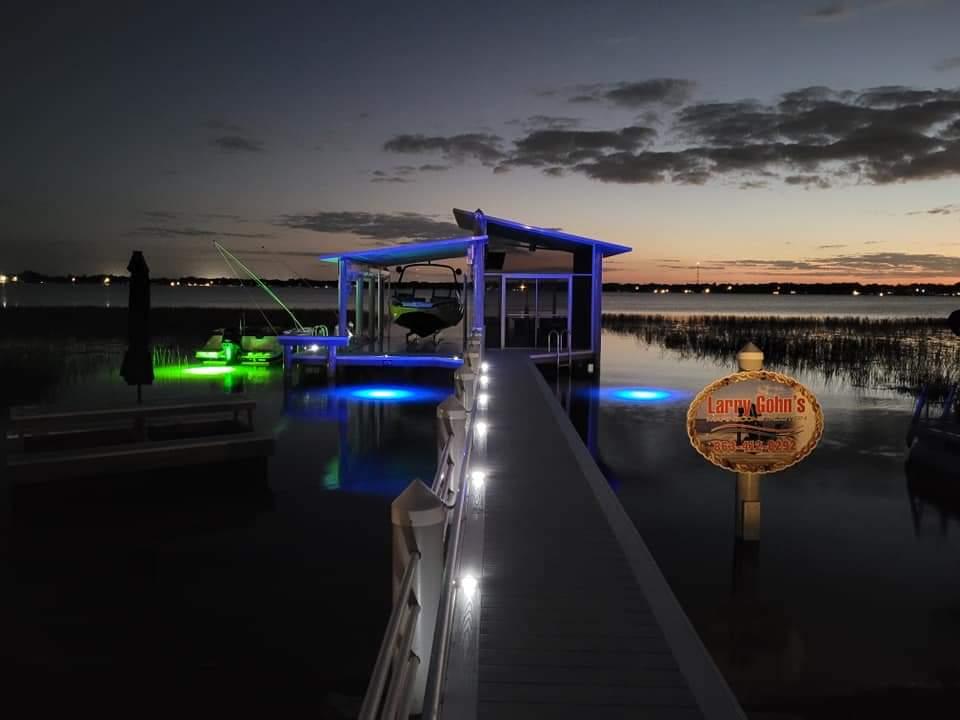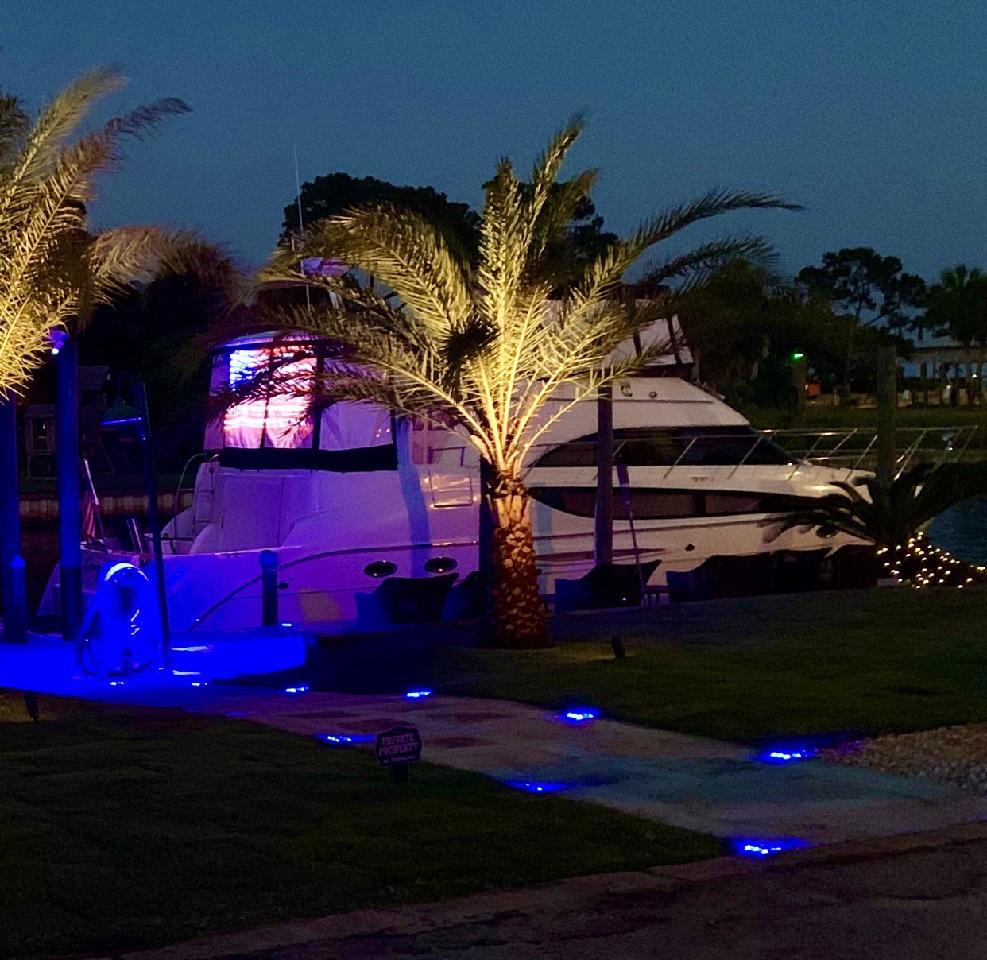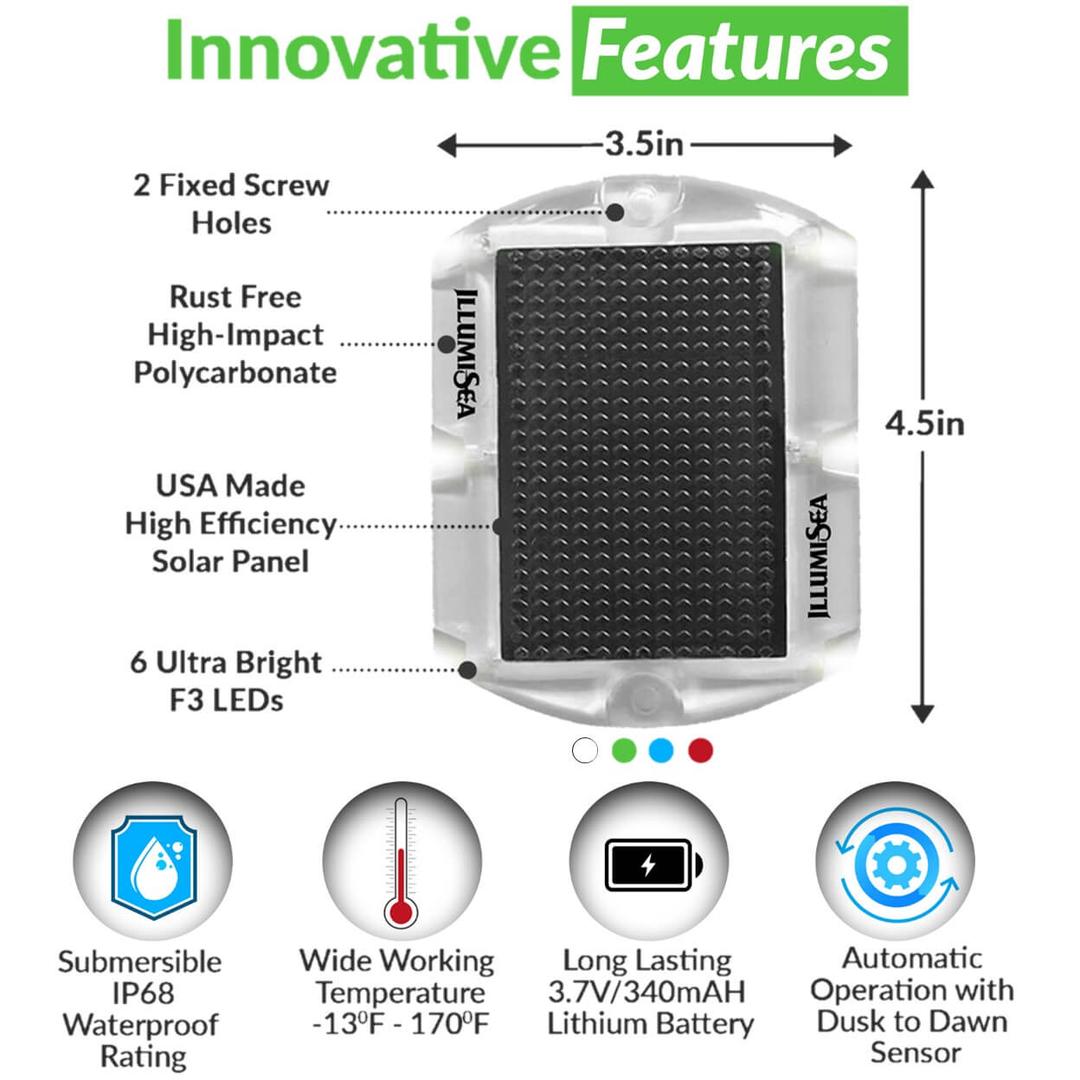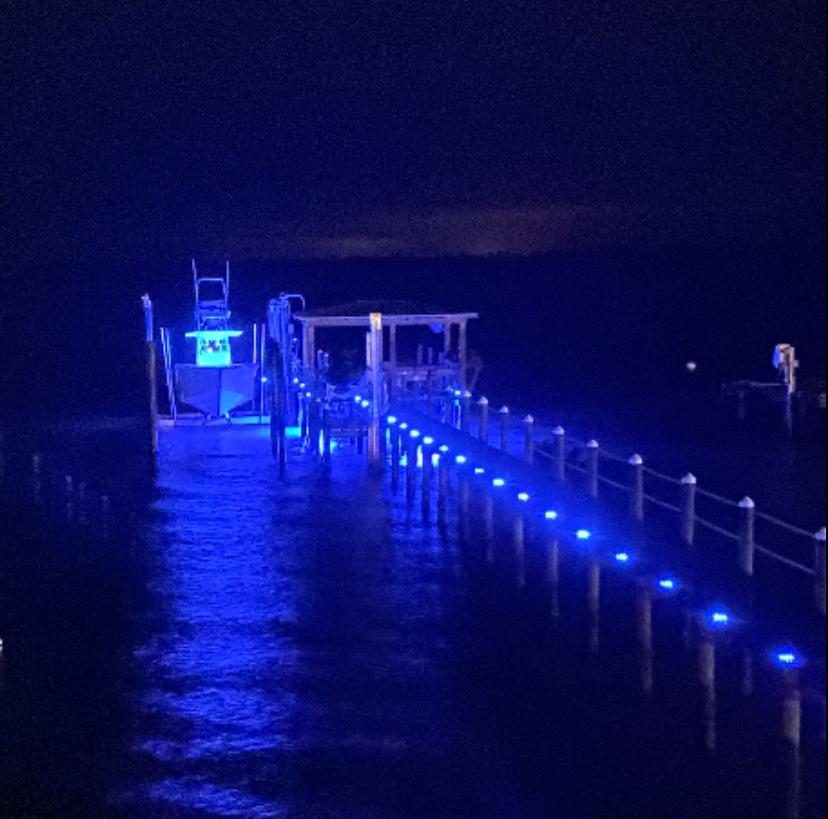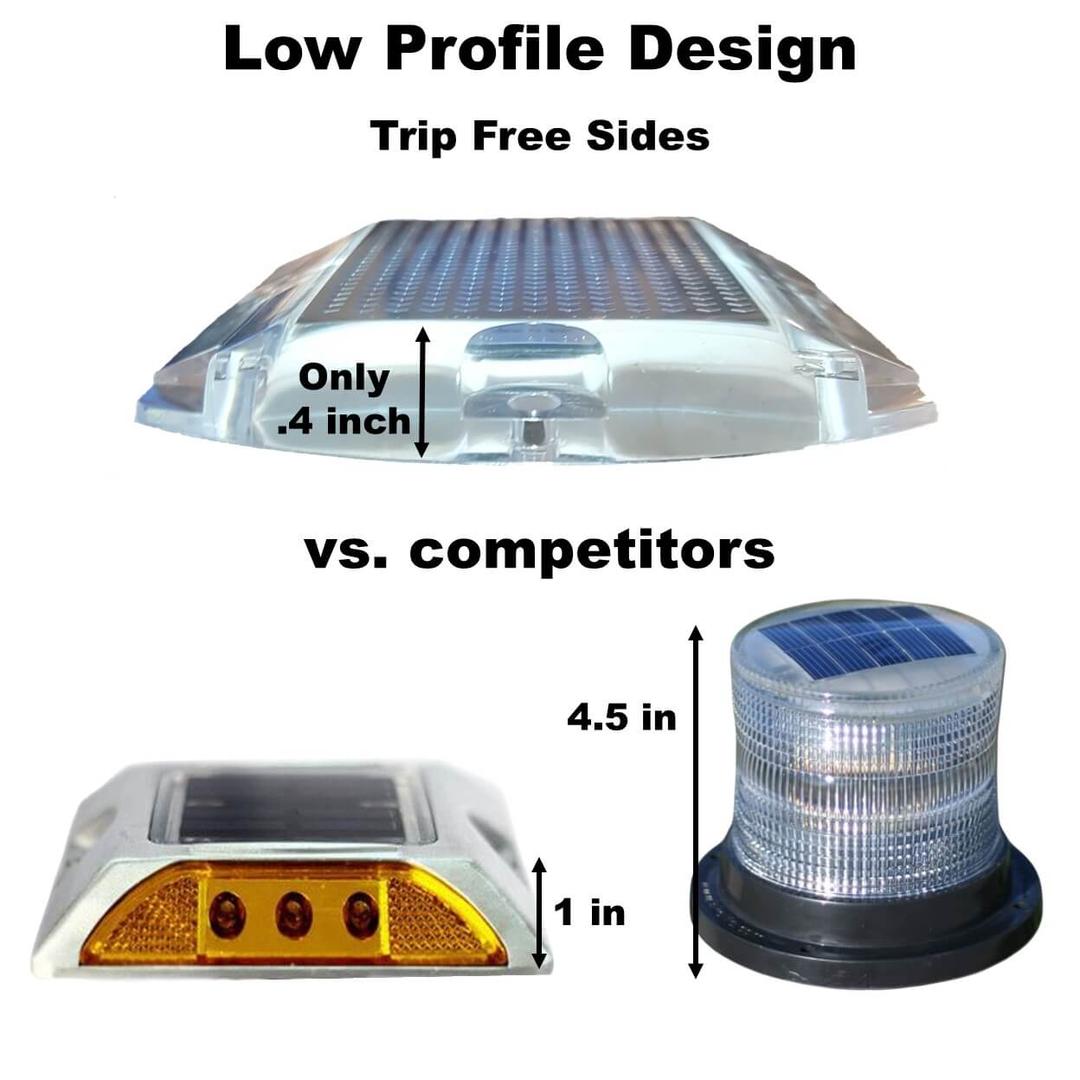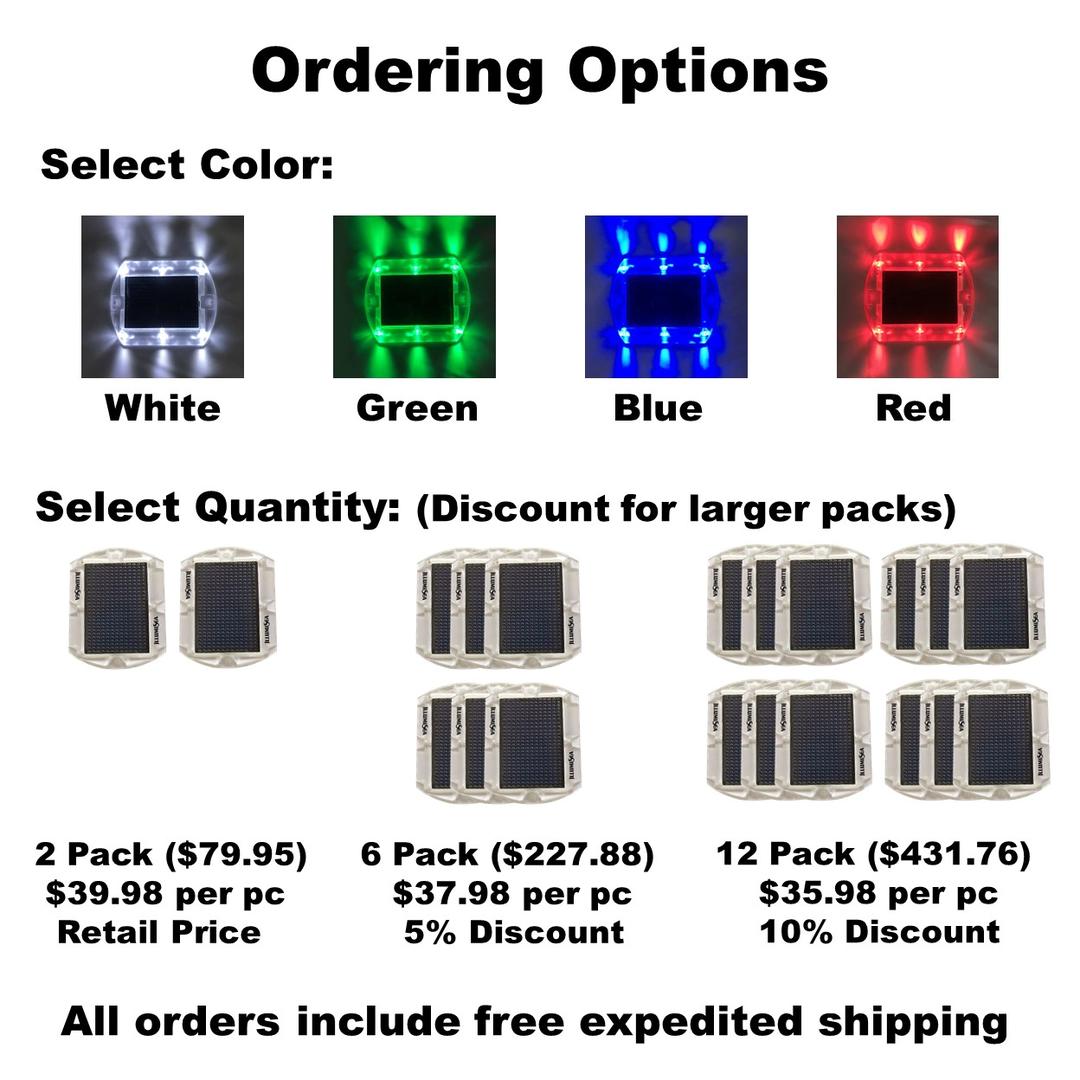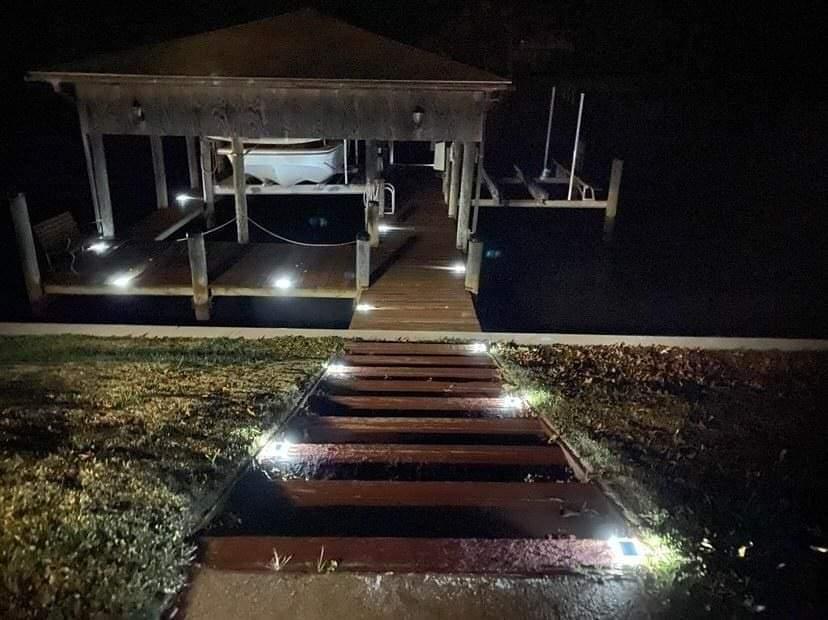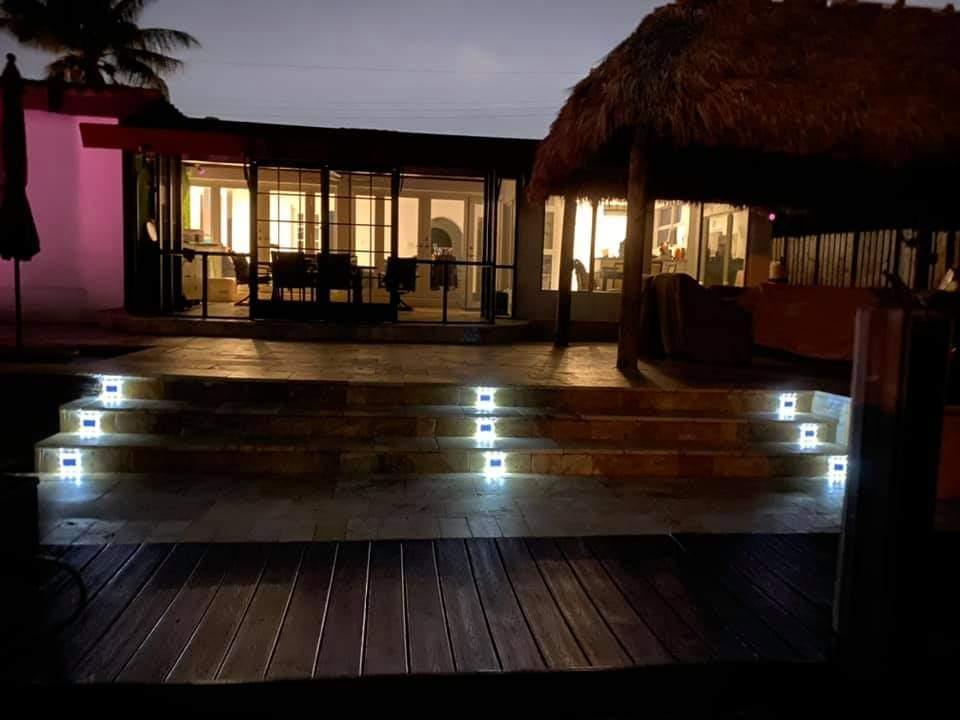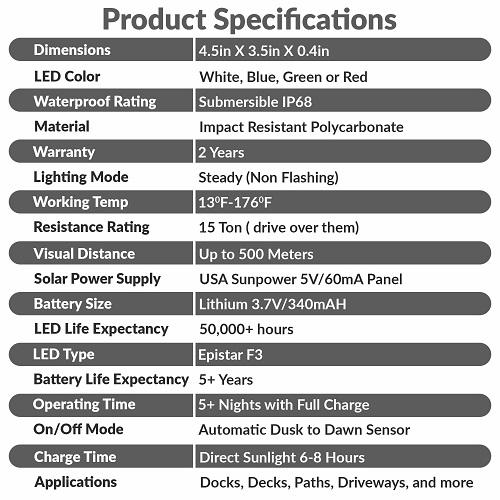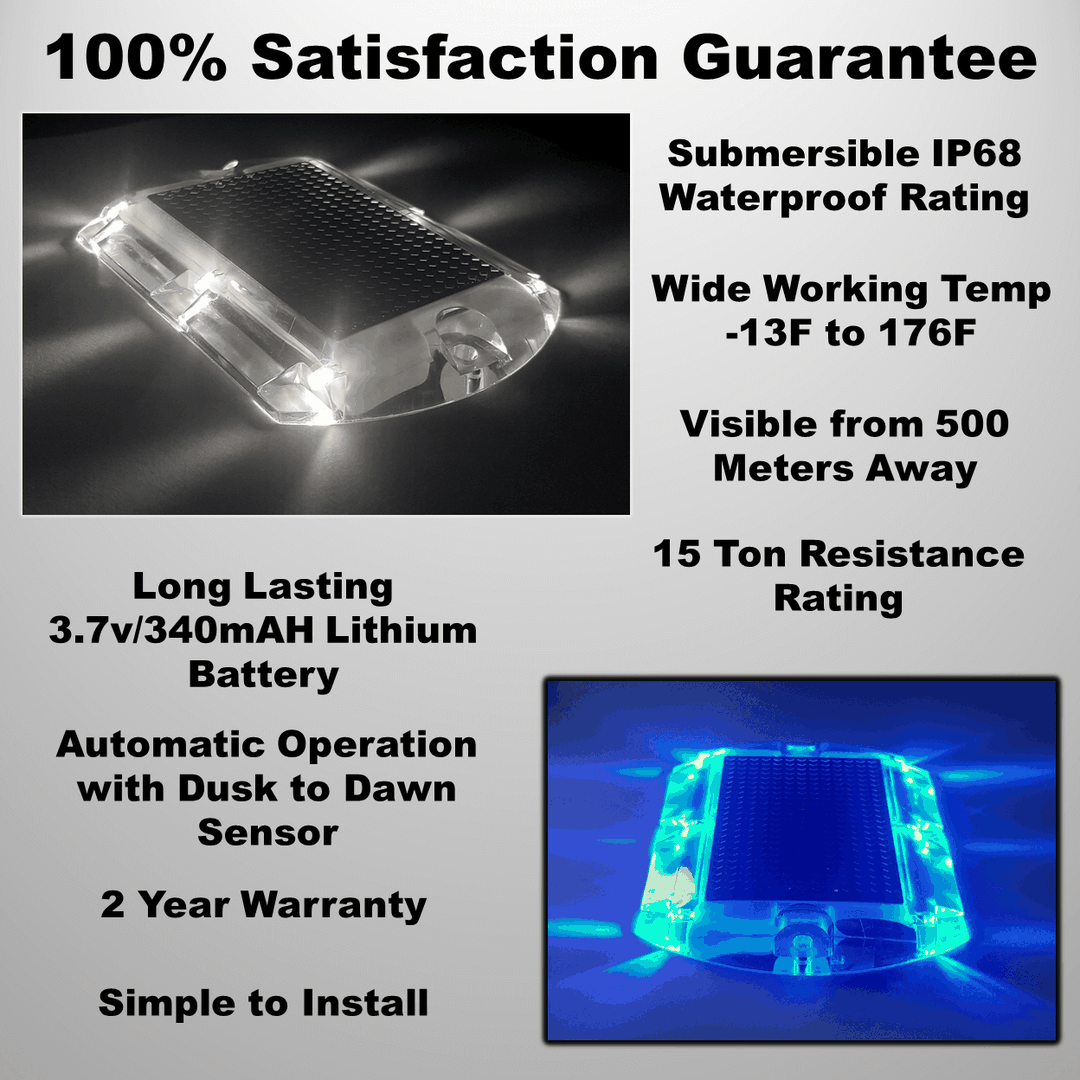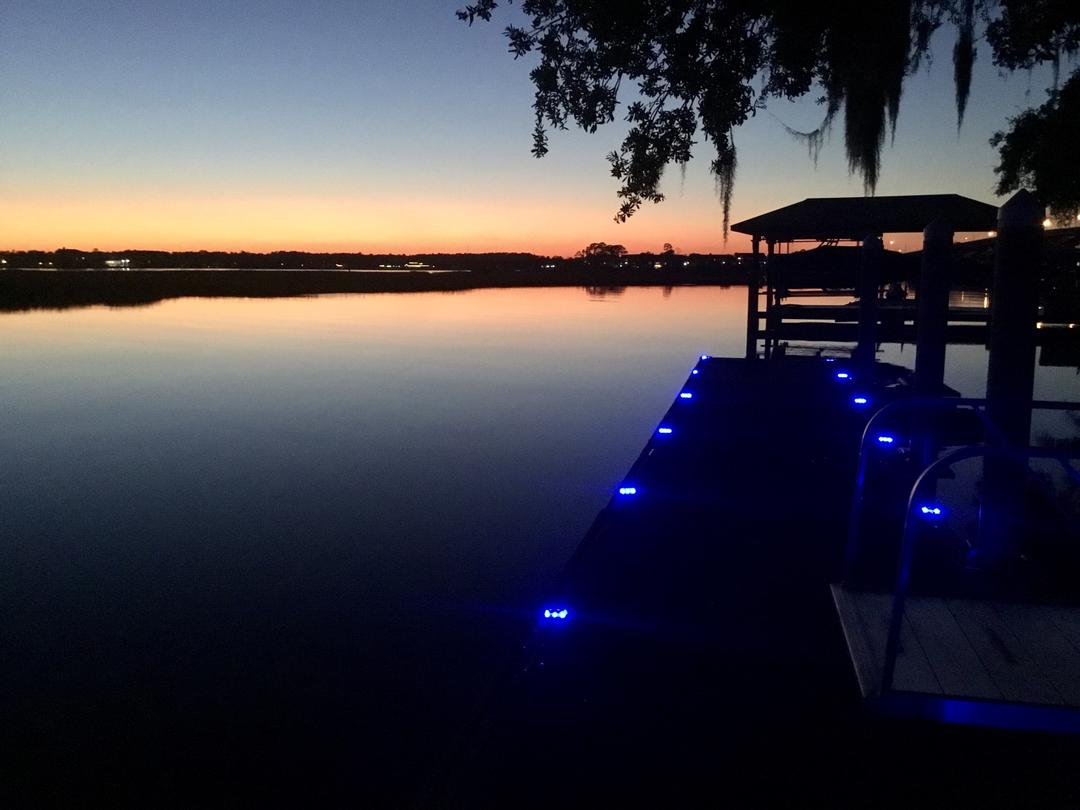 Solar LED Dock & Deck Lights
"Absolutely amazed at how well these thin lights light up our dock. I didn't want to run electric all the way out so these were a perfect fit"  -R. Egan
✔ Low-profile design with 6 Bright LEDs
✔ 2 Year Warranty and 30 Day Guarantee
✔ High-Efficiency USA Sunpower Brand Solar Panel
✔ Long-Lasting & Reliable 340mAh Battery
✔ Great for Outdoor Docks, Decks, Pathways & More
✔ Automatic Dusk to Dawn Operation
✔ Fully Submersible IP68 Waterproof Rating 
with Free Shipping in the USA
Discounted prices for 6 and 12 packs

✔ Low-profile design with 6 Bright LEDs
✔ 2 Year Warranty and 30 Day Guarantee
✔ High-Efficiency USA Sunpower Brand Solar Panel
✔ Long-Lasting & Reliable 340mAh Battery
✔ Great for Outdoor Docks, Decks, Pathways & More
✔ Automatic Dusk to Dawn Operation
✔ Fully Submersible IP68 Waterproof Rating 
Solar Powered LED Dock & Deck Lights

  Safety and luxury combined.  Maintain a luxury look while illuminating your dock, deck, or pier with these low-profile solar lights.

The solar and LED technology advances ever year, and these lights are the most innovative and efficient of there kind! Backed by a 30 day guarantee and 2 year warranty, we know you will be amazed at their top quality and superior performance. 
A Quick Video of Our Solar Lights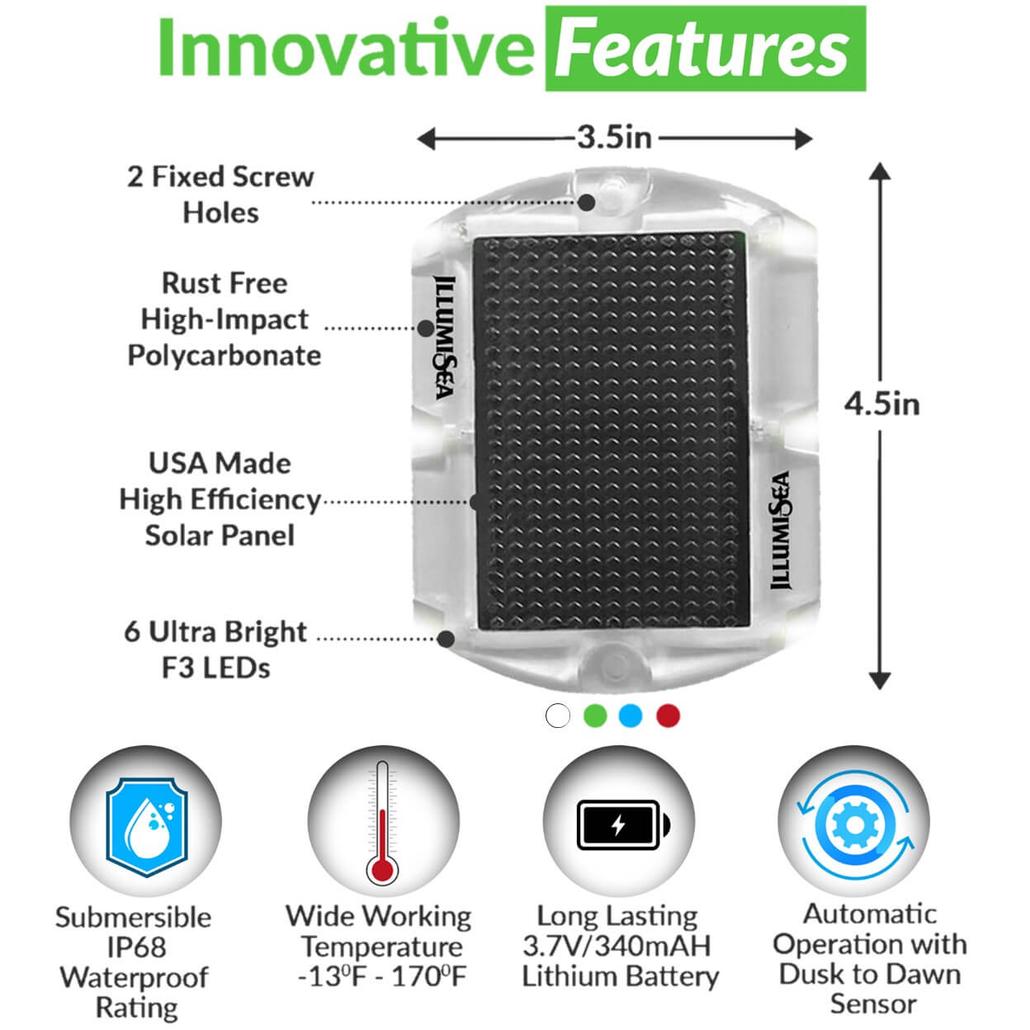 What's the difference?
Their Value
You can get 2 of these new solar lights for the price of one outdated competitors light and these are actually designed to withstand the harsh marine environments.
Their Size
Specially designed to be placed around common walking areas and not create a trip hazard.  At only 1/3 the height but twice the brightness of other lights you will love their thin & durable design.   
Their Innovative Design
Finally a solar light that is bright enough to be impressive with a battery life that lasts for days! Maintenance free and automatically turns on every night.
Their Guarantee
You can rest assured knowing that they are backed by one of the most reputable veteran-owned businesses in the industry!  Oh, and the 30 day satisfaction guarantee and 2 year warranty.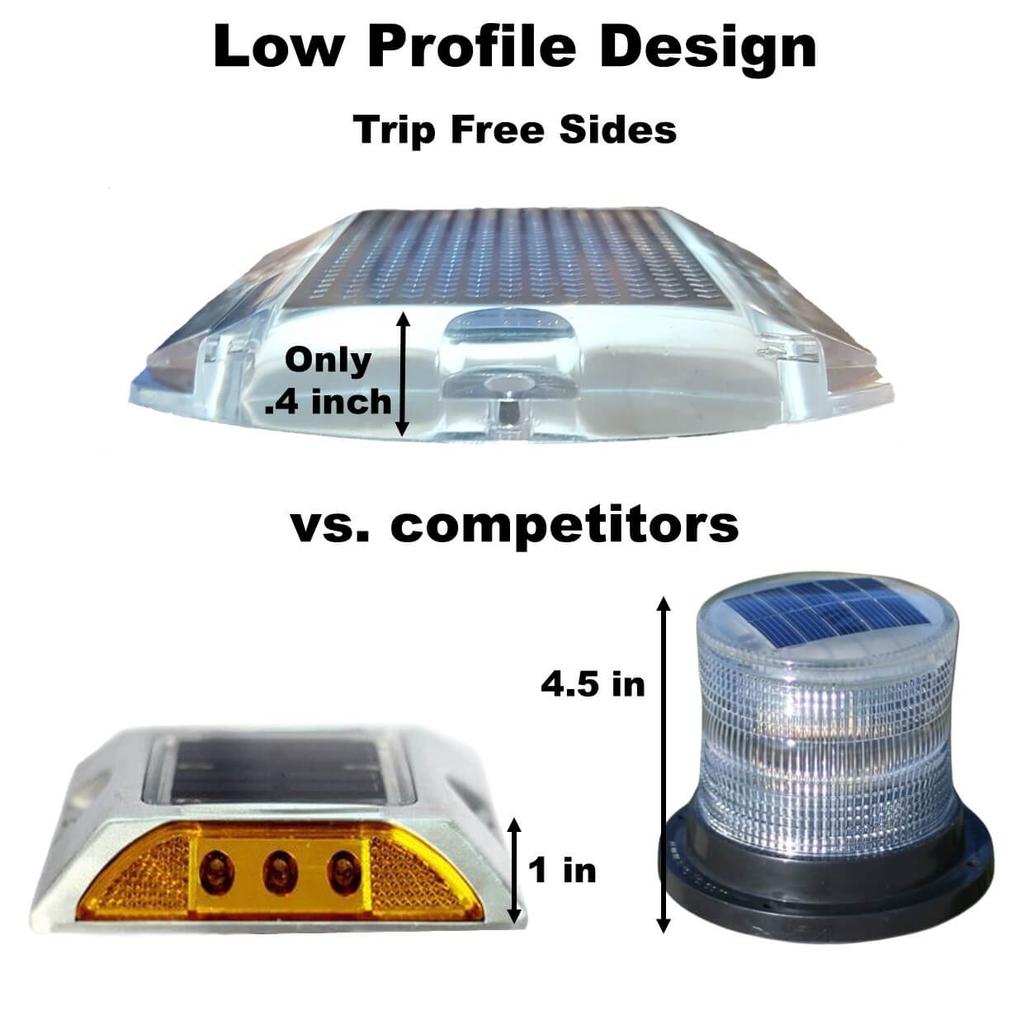 Advantages:

- Come in 2, 6, and 12 pack options
- Offered in white, blue, green, and red 
- 2yr warranty & 30 day guarantee 
- Less of a trip hazard and stub toe free 
- Top quality & most efficient materials
- 100% sealed preventing rust & corrosion
- Designed for the marine environment 
Specifications:
Size: 4.5" x 3.5" x .4"
Waterproof rating: IP68
Material: Impact resistant PC
Lighting mode: steady (non flashing)
LED life expectancy: 50,000+ hours
Battery life expectancy: 5+ years
Working temp: 13°F - 176°F
Resistance rating: 15 Ton
Visual distance: 500 meters
Power supply: Sunpower 5v/60ma panel
Battery size: Lithium 3.7v/340mAH
Operating time: 5+ nights with full charge
What are people saying about IllumiSea?
Most Frequently Asked Questions
How and where do I install these solar lights?

These solar lights are easily installed by the owner and are perfect for all outdoor locations. They are most commonly found on docks, piers, decks, walkways, driveways, and patios. They can be applied to almost any surface with wood being the simplest.   All that is required to apply to wood is a powered screwdriver and the provided screws. 




When applying to other surfaces there are several options available including masonry screws and adhesives. Feel free to contact us with specific application questions. 

How many do I need to order?

The number of the lights required will be dependent on your desired lighting outcome. They come in 2, 6, and 12 packs but multiple packs can be ordered.  If used as the sole source of lighting on pathway/walkways the separation between lights can be 6-10 ft.




When used as a visual "marking" or safety light on driveways, docks, or piers the recommended separation is 12-18ft. 




Calculating the required number of pieces can be determined with the equation below. 




(length of lighted area divided by desired separation) plus 1 = # of lights needed per side


                            (192ft pier / 16ft desired separation) plus 1 = 13 lights required per side




Adding 1 light to the calculation allows you to place one at the beginning (0.00ft) of the path.




Most areas are lighted with equally spaced lights on both sides of the path/pier/dock so make sure you double the number of required lights from above if you desire to have 2 "lines" of lights. 

How are these different from all the rest on the market?

These 100% sealed solar lights are designed to last in the harsh outdoor environment.  There are cheaper lights on the market that just don't last and are usually a disappointment.  Being able to replace the battery on these lights might sound like a great idea when actually it only allows more room for failure. The batteries and compartment areas typically suffer from corrosion and rust. 




A few other major differences:




Very low profile height (only .4 in) vs other trip hazard lights that are more of a hazard than anything due to there height. 
Designed with high impact PC that does not rust like other materials and has a 15 ton impact rating.  You can drive a semi-truck over them!
They turn on and off automatically every night and don't have a switch which is a common failure point. 
They include a 2 year warranty and are backed by one of the most reputable and highly rated veteran owned businesses in the industry. 




Wont these break easily compared to metal ones?

You will be impressed.  These lights are made with a high-impact poly carbonate that is rated to 15 tons.  They will hold up to more weight than you could ever put on them.  


How do they work? Are they rechargeable? Replaceable battery?

These solar lights must be placed outdoor in an area that receives direct sunlight for several hours per day.  The high-efficiency solar panel collects and converts sunlight into DC power everyday to recharge the pre-installed and long lasting lithium battery.   The built-in photosensor automatically activates the light at dusk and turns it off at dawn.




The batteries are not replaceable but are designed to last for many years.  Having a 100% sealed unit prevents the battery compartment from getting moisture inside and impacting the light. 

Any precautions, warnings, or other good to know info?

Make sure the are receives direct sunlight for several hours a day in order to allow the battery to be recharged daily. 
Do not over tighten the screws when attaching with a power drill. It is recommended to use a hand screwdriver for the last couple of turns.
Out of the box, the light will require a full days charge to operate properly the first time. 
Do not place these solar lights in well lit areas that prevent the photosensor from activating the lights. 
Under extreme cold conditions or several days without sun these lights may not activate or may only turn on for a few hours. 
Not all the lights in one given area will turn on at the exact same time. Each sensor will activate the light once it determines low light conditions. 
Keep the solar panels clean and free of debris that may block sunlight from reaching the panel.

How long do they take to fully charge? How long will they last?

The number of hours the solar dock light illuminates depends on your geographical location, weather conditions and season. Generally speaking the light will be fully charged after 6-8 hours of direct sunlight.  A fully charged battery will last 4-6 evenings without needing a further charge.  The lights are designed to last 5+ years before needing replaced. 


What color is most popular?

Most popular colors in order are white, blue, green, then red.  Matching the surrounding accent lighting or your underwater dock light is common. 

Who is IllumiSea Aquatic Lights?

We are a family owned and operated business that specializes in creating memorable experiences through our innovative line of aquatic lights. Founded by a Special Operations Combat Veteran and his wife in 2017, IllumiSea came to fruition on a fall evening while fishing with our 4 sons.




Being a family who loves to fish we purchased an underwater light for our dock. Our 6-year-old son cast out his line into a massive bait ball swarming around the light. Within minutes he had a bite and caught himself his very first striped bass!!! Within those moments of him having a smile that couldn't be wiped off his face, IllumiSea was born.




We knew we wanted to give others the chance to have a moment like this one. The time as a family that we spend around the light each evening is priceless. Those moments spent together mean so much especially being a military family. Our moments are limited with one another so much, that we have created a family adage. An adage of "collect moments not things".




We hope that if you choose to purchase a light from us that that one thing you do "collect" will bring you a million moments filled with lasting memories! It sure has for our family of 6!!!