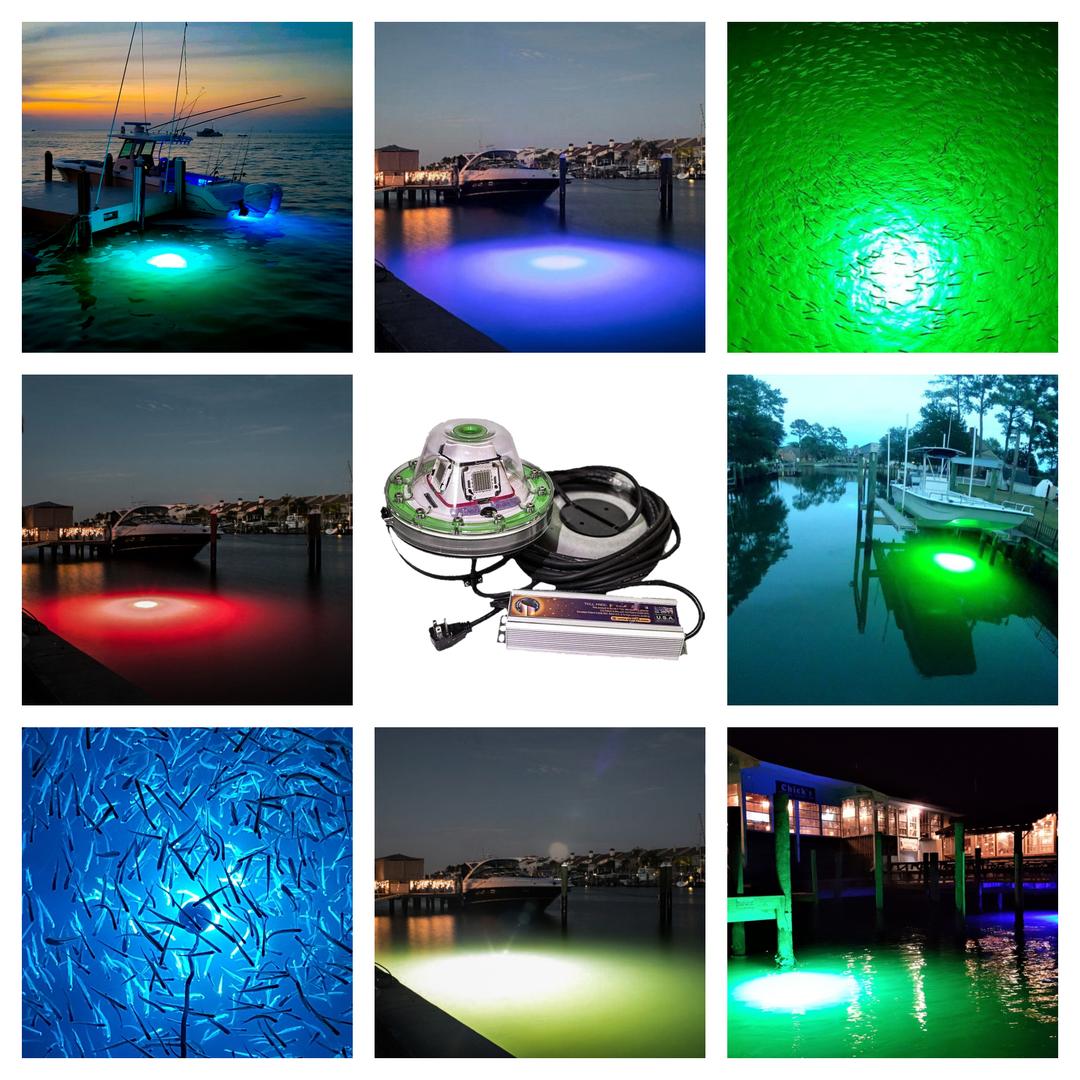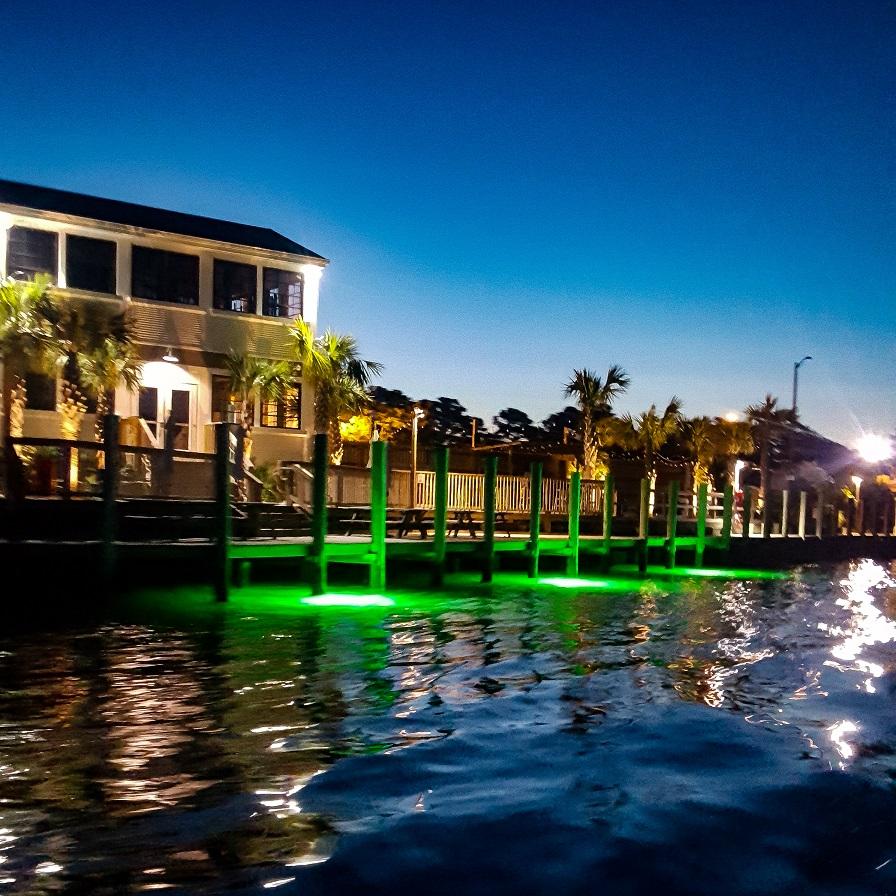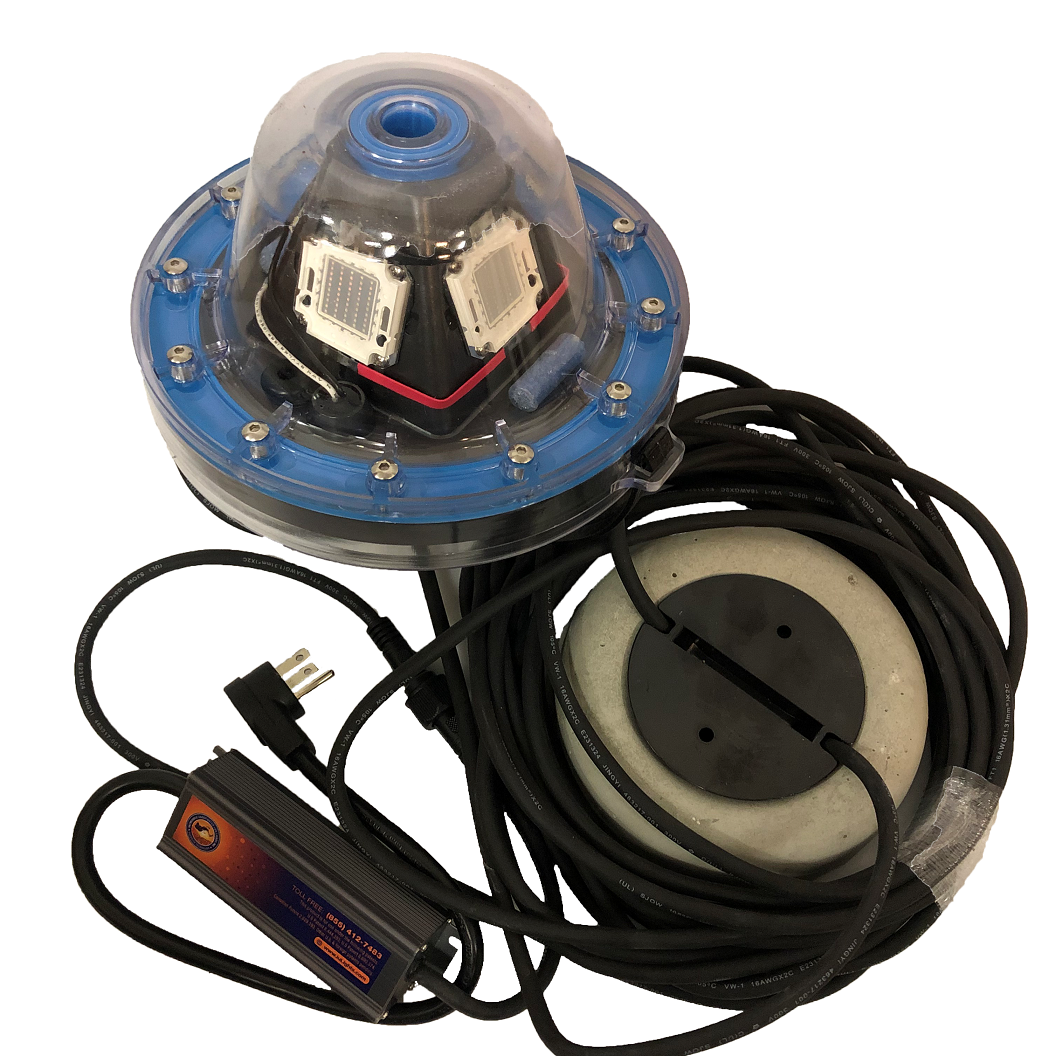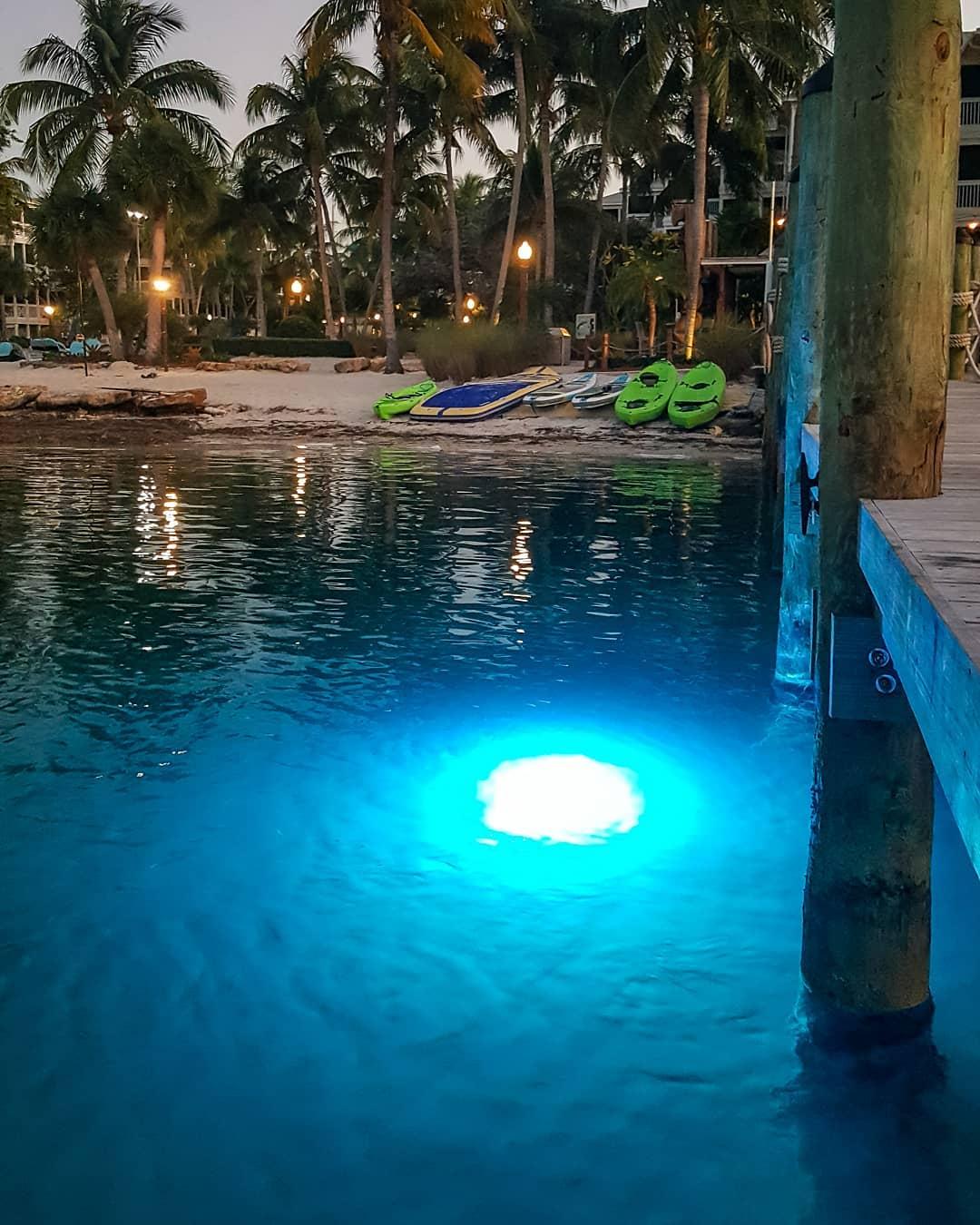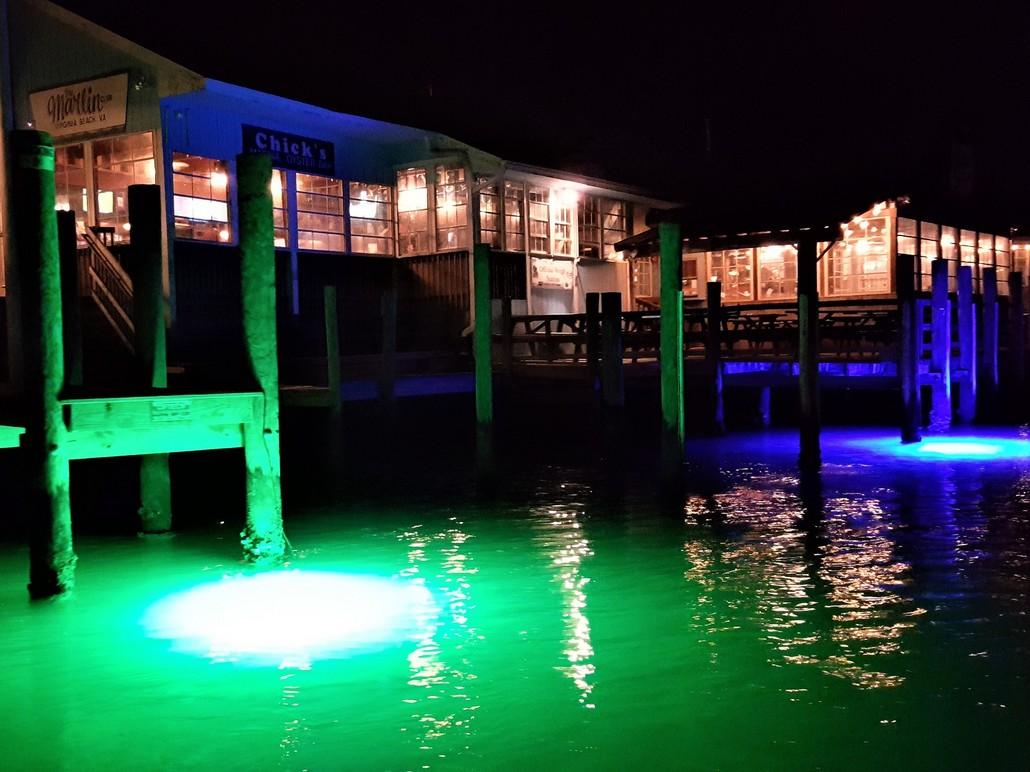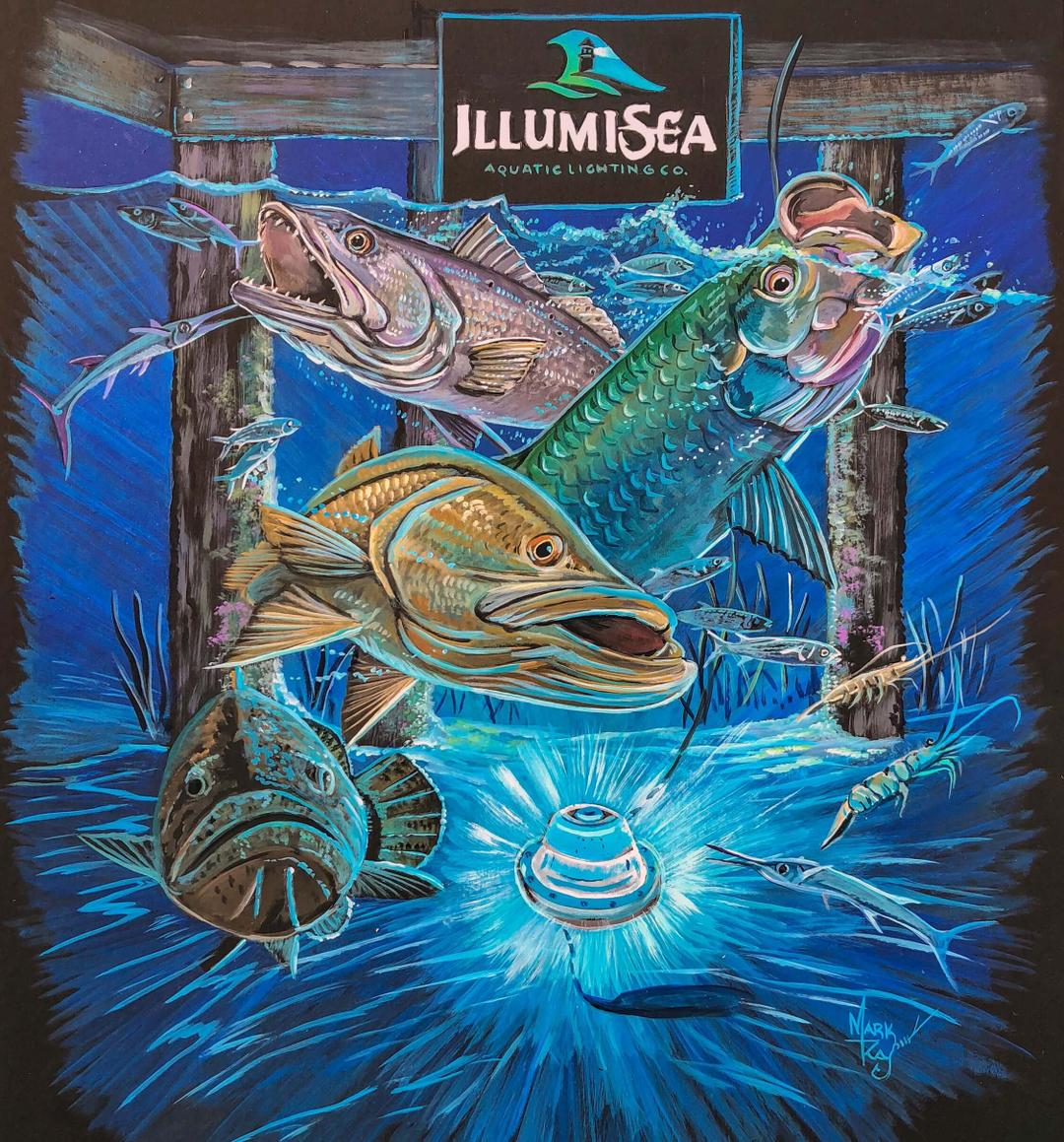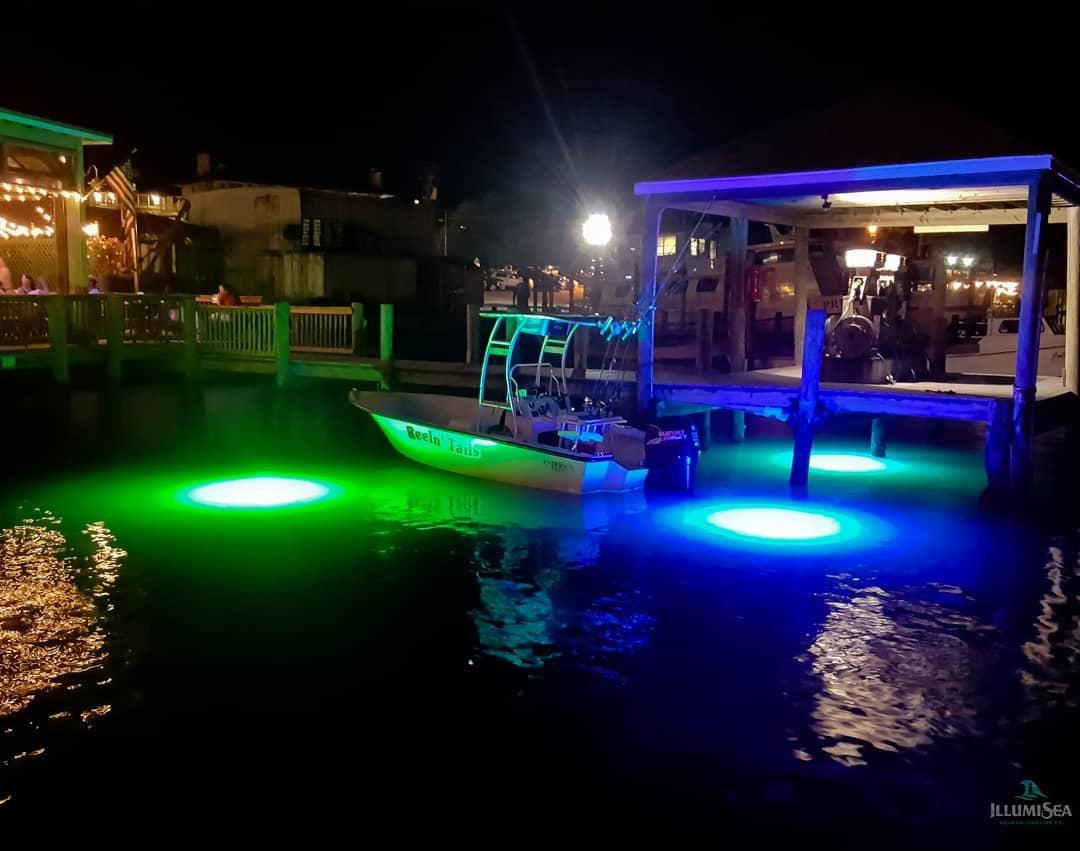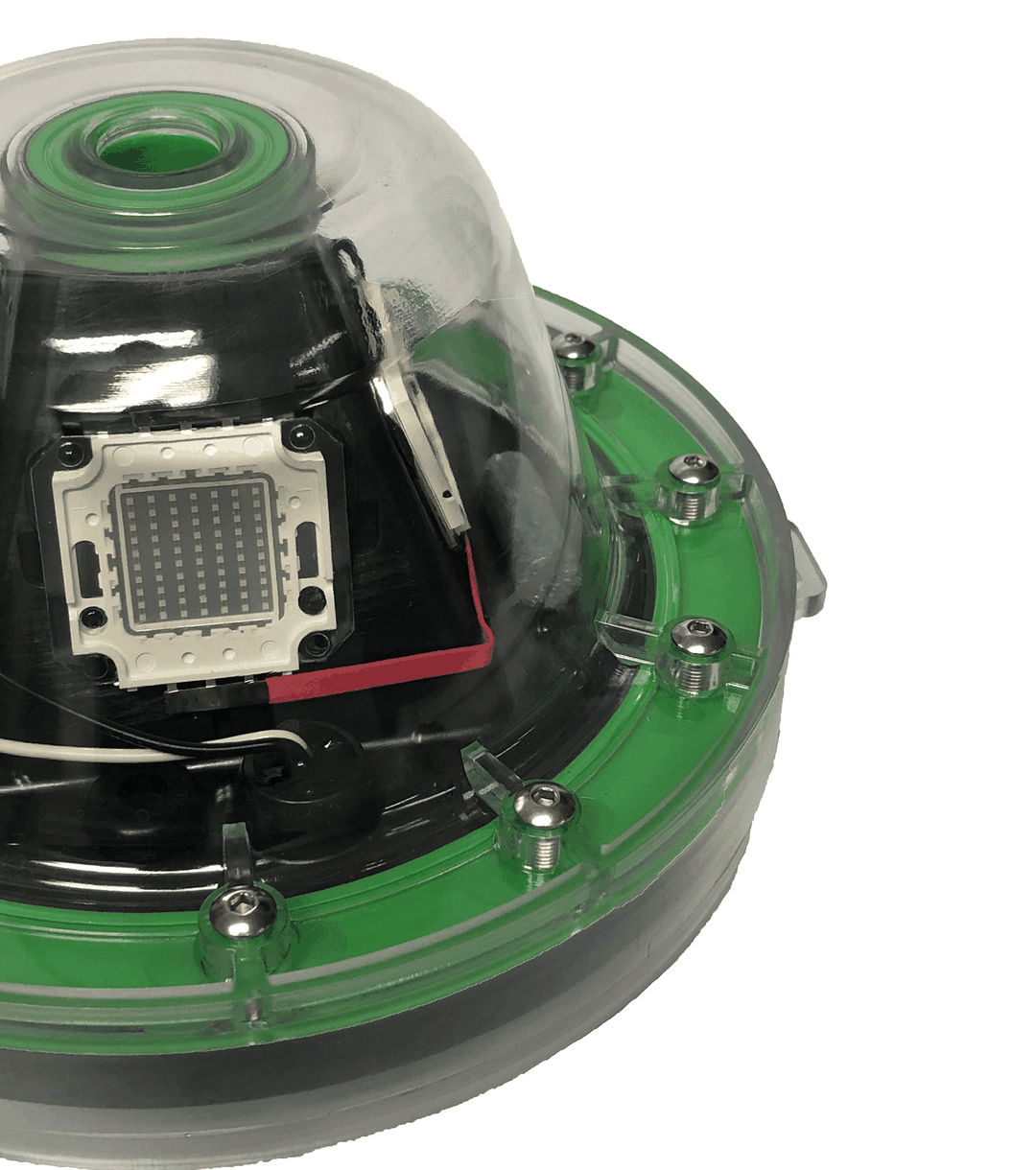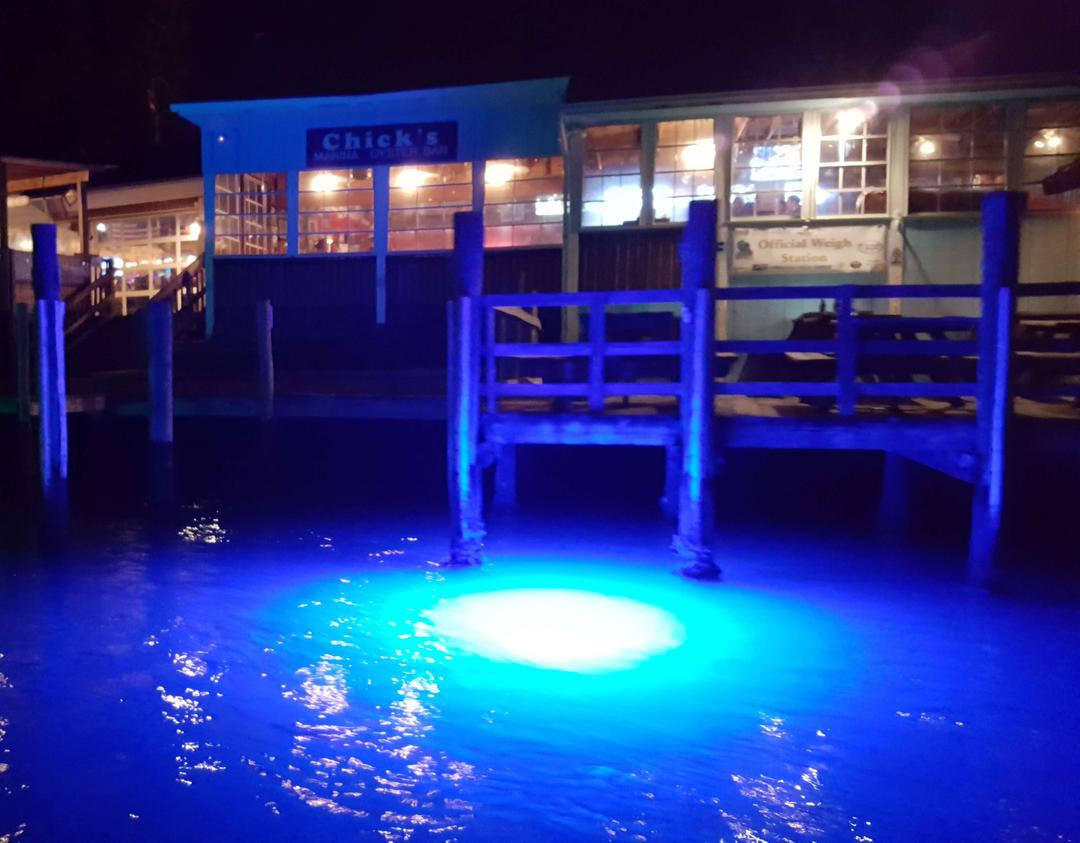 Mega Watt LED Underwater Dock Lights (Various Color Options)
"Lit up the Neighborhood!!! Great light! Easy to install, Met all my expectations and more. Received many compliments from neighbors including the ones across the canal. My dock looks amazing."  -E. Padron

✔ 25000 Lumens producing up to 60ft diameter of light 

✔ No installation required! Plug-and-Play system
✔ Guaranteed to attract fish & variety of sea life!
✔ Long-lasting 50,000-hr average life-span 
✔ Swimming safe low voltage in the water
✔ Superior LED life expectancy vs. metal halide
& Free Shipping in the USA
Need to order more than 6 or request international shipping?
Request a custom quote HERE. 

✔ 25000 Lumens producing up to 60ft diameter of light 

✔ No installation required! Plug-and-Play system
✔ Guaranteed to attract fish & variety of sea life!
✔ Long-lasting 50,000-hr average life-span 
✔ Swimming safe low voltage in the water
✔ Superior LED life expectancy vs. metal halide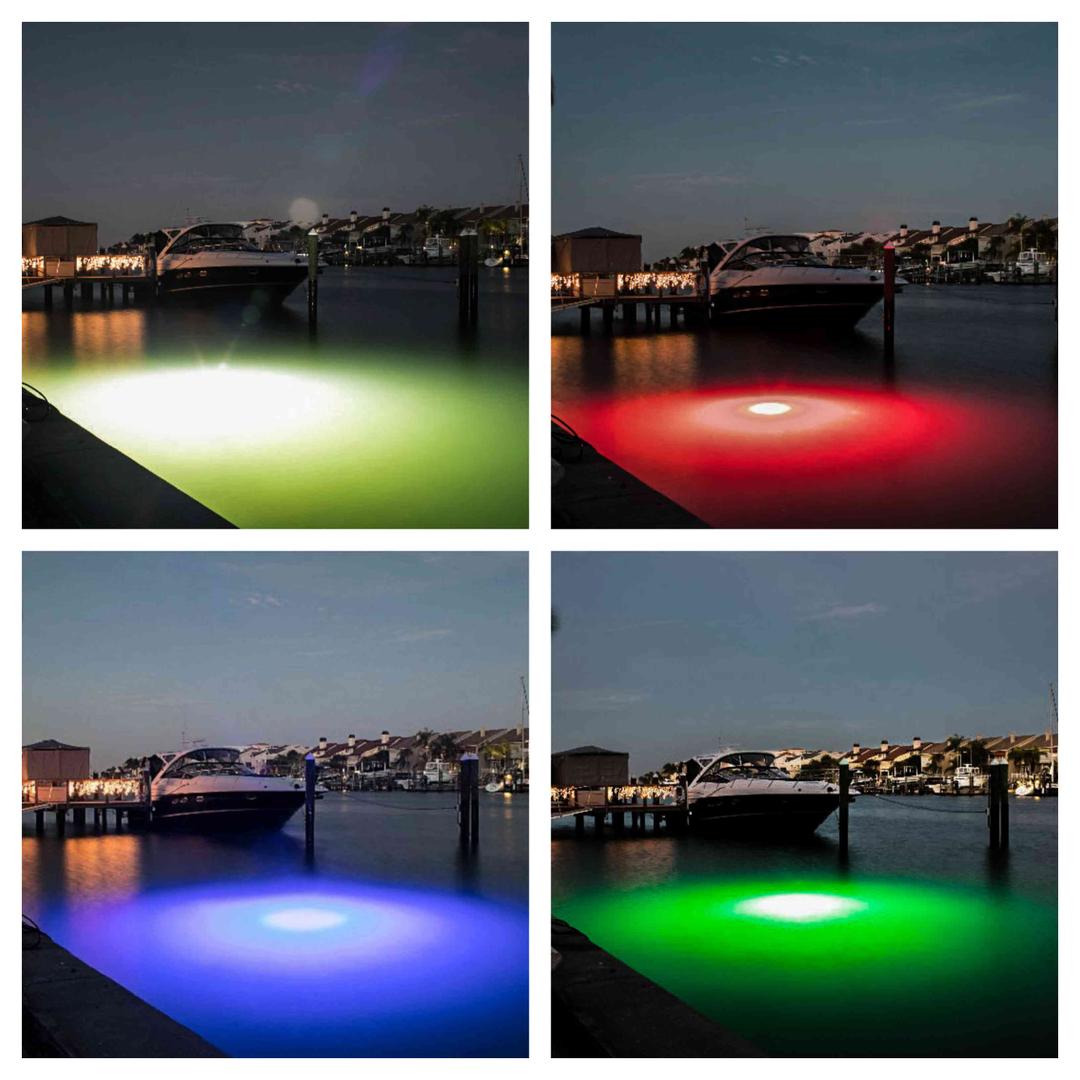 25,000 Lumens bright! Superior quality LED underwater dock lights for your luxury waterfront property.  

  Bright enough for murky, fresh, and saltwater environments. These lights in the green, blue, and light blue colors are our most popular selling dock lights!

Out of the box, the Mega-Watt LED Underwater Dock Light is one of the most easiest, brightest, and innovative lights on the market. Backed by US and CA patents, this light is one of a kind that has ZERO competition. It generates an amazing (up to) 25,000 lumens creating a 60-foot diameter of fish attracting light in clear waters.
No other conventional (metal halide, CFL, HID, etc.) or LED dock light on the market can compare to the ultra high performance of a Mega-Watt. The Mega-Watt produces more than 10 times the light output compared to many of the LED underwater dock lights out there, and it costs only pennies a day to operate.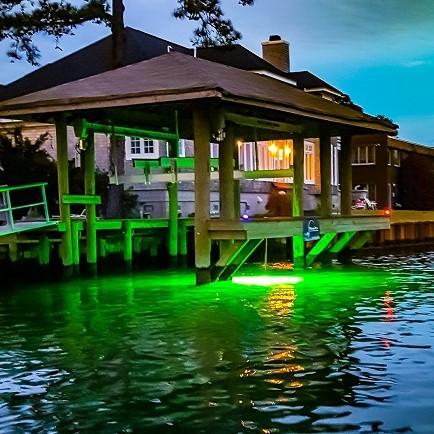 Best LED Light Available!
Our Mega-Watt underwater dock lights are by far the most technologically advanced and brightest submersible LED  underwater lights in the world! That is why they are found all around the world!
With the addition of the Mega-Watt LED dock light to your fresh or saltwater environment, spectators will be amazed at the marine life that is attracted to the (up to) 60-ft diameter of light emitted, nearly double that of other underwater dock lights.
Due to our ultra high intensity LED light circuitry combined with our patented internal water cooling system, the Mega-Watt underwater LED light is the brightest, most energy efficient light available.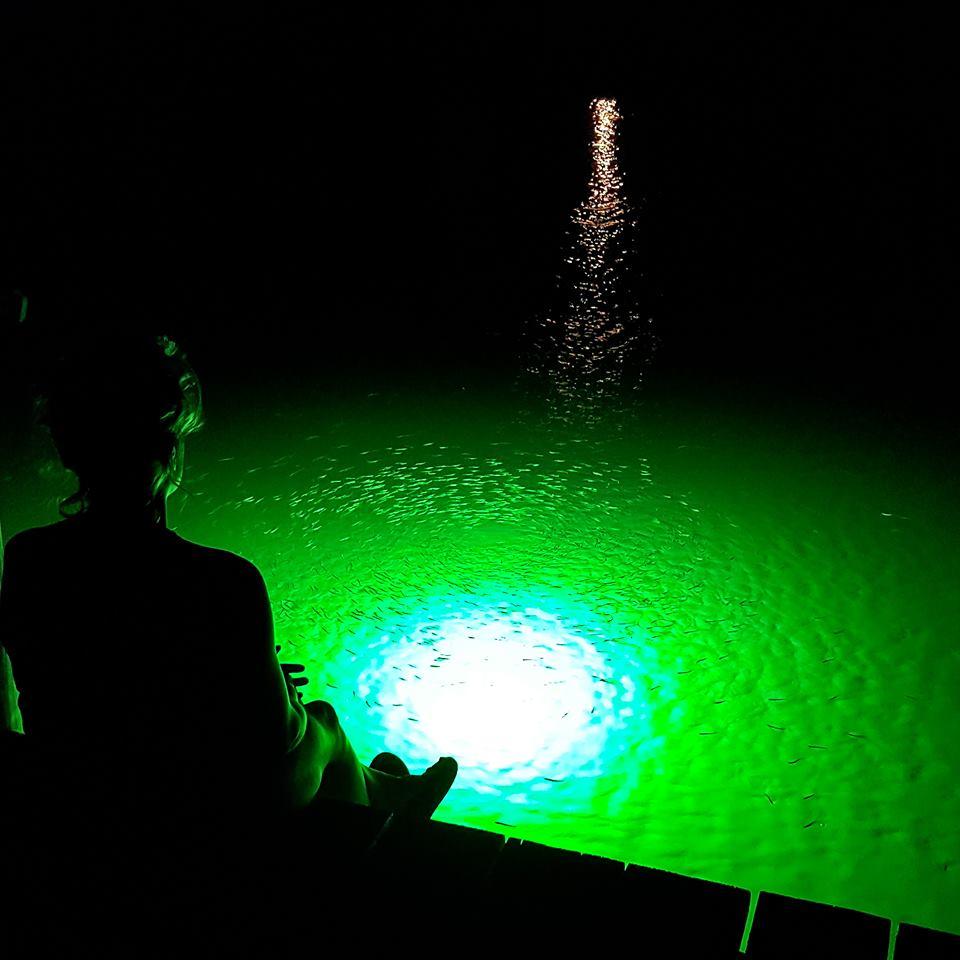 MEGA-WATT LED UNDERWATER DOCK LIGHTS INCLUDE

:

One Mega-Watt Light
One Driver (AC-DC Power Supply)
One Power Cord (40-200ft)
One 3-lb Weight
One Weight Strap
One Instruction Manual
MEGA-WATT LED UNDERWATER DOCK LIGHT FACTS:
Swimming safe low voltage in the water unlike many competitor lights that use AC-120V running into the water
Guaranteed to attract fish & variety of sea life!
Easy adjusts to any depth of fresh or saltwater
LED's only cost pennies per day to operate
Superior LED life expectancy vs. metal halide
Found worldwide at luxury resorts, restaurants, marinas, and estates
Safely illuminates your waterfront at night for kids, pets, and boaters.

What are people saying about IllumiSea?
Most Frequently Asked Questions
How do I Install my LED Dock Light? (Mega/Apollo/Iris)

IllumiSea Underwater LED Lights are easily installed by the owner. The lighting system is literally plug-and-play. Simply adjust the position of the weight on the power cord to set the depth of the light from the surface of the water. Toss the light in the water at the desired location. Plug the electrical cord into an outlet (110-220 VAC). Sit back and Enjoy.




View the simple install picture diagram here -->> View Install





What Colors are Available for the Underwater Dock Lights?

IllumiSea understands our customer's need for a variety of color choices. We are proud to offer several different color options: Green | Blue | Red | Orange | White | Light Blue. Although all of our colors are beautiful, attract fish and offer completely unique effects, we do recommend the blue, green, or light blue lights if you're looking to attract the most marine life. If you can't decide on a single color, you can always choose our "IRIS" series, which produces 2 colors at the same time. The"IRIS" series features a center color that is surrounded by an outer color. This patent-protected feature is yet another IllumiSea exclusive innovation and is available for both "Apollo" and "Mega-Watt" series to fit your needs. The 2 color combinations will combine in the water and create unique colors that can't be found elsewhere. 


How Much Power Consumption do the Underwater Lights Use?

Our low-voltage lights are converted through a digital driver from AC 110/220 to a swimming safe DC 36 volts. Our lights consume less than 3 amps. The power consumption from our lights are comparable to an 80-watt conventional light bulb. If used 6-8 hrs per night, it will cost $4-$6 per month on average. Our competitors' underwater lights will cost their customers $25-$35 per month on average if used 6-8 hrs per night. LEDs continue to advance every year and are arguably the most efficient way to light up the water. 


How Do Underwater Lights Attract Sea Life? Do all colors attract fish?

Within minutes, microscopic creatures called phytoplankton begin to move in on the light source, very much the way insects are drawn to outdoor lighting. Small fish soon follow, attracted by the zooplankton. Each link in the food chain is followed by the next, over minutes and hours. The water around the light will actually become foggy with the swirling masses of copepods, small shrimp, and other microorganisms. Large baitfish schools (species dependent on location) will actually learn the location of the light and show up night after night to feed. This behavior is mimicked by predator fish who soon learn that easy meals can be found in the shadows surrounding the glow. Within a few weeks, your dock will be a regular feeding station for the local fish populations. All this unfolds right before your eyes, and from the comfort of your own home. Watch as predatory fish slash their way through schools of baitfish, or suck shrimp from the surface right in front of you.




The top fish attracting color is known to be green.  The wavelenght size of green is most visible to marine life and also penetrates dirty water better than darker colors.  The light blue and white would be second best at their ability to attract bait and fish.  Dark blue and other colors will still attract bait but the fish might not be as visible and stand out as much in the darker colors.   Our top selling colors are green, aqua blue, and blue. 


Do these lights require cleaning? If so, how do I clean them?

The cleaning requirement for underwater lights is strongly dependent on the environment that they are placed in.  Cold saltwater and most freshwater environments will only require the user to occasionally check the lights for growth throughout the year.  Warm saltwater conditions will require the user to check the light every 3-4 weeks until it is determined how often they need to be cleaned.  Allowing significant growth to develop on the outside of the light will prevent the internal LED chips from being properly cooled by the surrounding water.  




If growth appears on the light then simply disconnect the light from the power source, remove the light from the water by pulling the electrical cord and use a hard bristled brush to scrub the lens. If heavy growth appears that cannot be removed by a brush, the use of a putty knife or paint scraper is recommended.  Leaving the light out of the water in the sun will also kill off most of the growth within 24 hours allowing it to be scraped off more easily.  Ensure that the light has been unplugged from power so it doesn't accidentally turn on while out of the water. 


What depth is required for these lights? Is it adjustable?

Our dock lights are currently used in water depths of <3ft to over 50ft.  The minimin depth required to operate the light is approximately 24 inches, but 3-4 ft minimum is recommended.  The light must always remain underwater during tidal changes ensuring that it will properly cool during operation.  The dock lights come in 40ft, 80ft, and 120ft power cord length allowing them to be used in a variety of situations. 




To estimate the cord the length of cord that is required for your specific conditions simply use the below formula or contact us today.  Most docks only require a 40ft cord. 




Depth of water X 2

+

Distance from light to an electrical outlet

=

Estimated power cord required

How far below the surface should I place the dock light?

The depth of the light will be dependant on the clarity of the surrounding water and your desired brightness.  The uniqueness of these dock lights is that they are easily adjustable for a variety of conditions.  To start off, place the light approximately 3-5 feet below the surface and adjust from there.




Some of our lights in crystal clear waters are placed on the bottom of 10-15 ft of water and still create a substantial diameter of light.  On the other hand, placing the dock light in extremely dirty water may require it to be placed only 2-3 feet below the surface. 

Who is IllumiSea Aquatic Lights?

We are a family owned and operated business that specializes in creating memorable experiences through our innovative line of aquatic lights. Founded by a Special Operations Combat Veteran and his wife in 2017, IllumiSea came to fruition on a fall evening while fishing with our 4 sons.




Being a family who loves to fish we purchased an underwater light for our dock. Our 6-year-old son cast out his line into a massive bait ball swarming around the light. Within minutes he had a bite and caught himself his very first striped bass!!! Within those moments of him having a smile that couldn't be wiped off his face, IllumiSea was born.




We knew we wanted to give others the chance to have a moment like this one. The time as a family that we spend around the light each evening is priceless. Those moments spent together mean so much especially being a military family. Our moments are limited with one another so much, that we have created a family adage. An adage of "collect moments not things".




We hope that if you choose to purchase a light from us that that one thing you do "collect" will bring you a million moments filled with lasting memories! It sure has for our family of 6!!!